Scarborough Slams 'Staggering' FBI Logic: 'She's Guilty, But We're Not Going to Charge Her'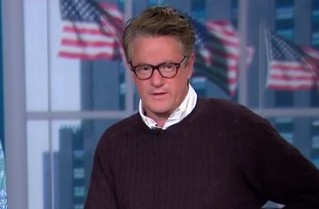 The conservative half of the Morning Joe duo Joe Scarborough tore into FBI director James Comey's decision not to recommend charges against former Secretary of State Hillary Clinton, despite Comey laying out all the reasons why those charges would be valid.
"What just happened?" the MSNBC host asked Wednesday. "I mean, I don't get it."
Scarborough lamented that he was going to write a post for The Washington Post with the exact title "I Don't Get It," only to be beat to the idea by Jonah Goldberg. "I read the statutes and I looked at the information. I saw the people who had been charged in the past for doing much less than she did."
.@JoeNBC on FBI recommendation on Clinton email probe: It's staggering https://t.co/kNuHcddTqR

— Morning Joe (@Morning_Joe) July 6, 2016
"There are people that have been convicted with no intent for doing far, far less and their only crime in the end was their last name wasn't Clinton, so they didn't walk," he reiterated. "It's staggering. And then you look at what's happened over the past week with the meeting between [Bill Clinton] and [Attorney General Loretta Lynch], you look at the dangling of the job offer in front of Loretta Lynch in The New York Times, you look at them trying to hide the interview on Saturday morning fourth of July weekend"
"And then Comey yesterday coming out saying, 'She's guilty but we're not going to charge her with anything,'" he complained. "Which in effect, if you read the statute — it was staggering what we saw yesterday. 'She's guilty, but we're not going to charge her.'"
Watch above, via MSNBC.
[Image via screengrab]
——
>>Follow Alex Griswold (@HashtagGriswold) on Twitter
Have a tip we should know? tips@mediaite.com