Scarborough Spars Over GOP, NRA 'Cowardice' On Guns: They'll Cave In Order To Avoid Losing Elections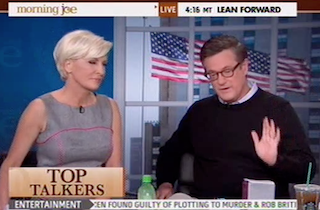 Morning Joe again tackled the topic of guns on Thursday, lamenting that it's been "sad" and "depressing" to see the lack of progress in the effort to pass more legislation. Joe Scarborough, however, had faith that the GOP and the NRA couldn't "hide" out for long, and that they'll eventually come around and do the "right" thing. Not everyone quite agreed.
Despite the president stressing that no one is going to take away people's guns, Mike Barnicle noted, every attempt appears to be DOA in Congress. "It's sad, it's depressing" — and displays "an amazing amount of cowardice."
That prompted Scarborough to revert to a point he's so often made throughout this debate: People in the south, people who are gun owners — all his "friends" he talks about — are in favor of background checks. Given the opposite directions individual states are moving in, Harold Ford, Jr. asserted the issue may come before the court, since "Congress doesn't seem poised or ready or politically courageous enough."
The discussion veered into a tangent about how cars are deadly weapons (don't text and drive, kids), but found its way back later, as Scarborough asserted that when parties ignore what the public thinks, they lose elections. They can "hide" in Washington D.C., but eventually get "smoked out."
"The Republican Party at the end of the day is going to do the right thing here," he predicted. "I think the NRA at the end of the day is going to do the right thing here."
"I bet they don't make a single concession," Barnicle countered.
Take a look, via MSNBC:

Have a tip we should know? tips@mediaite.com