Scarborough Spars With Sam Stein Over IRS Targeting 'Progressive' Groups: Doesn't Take 'Legs Off' Scandal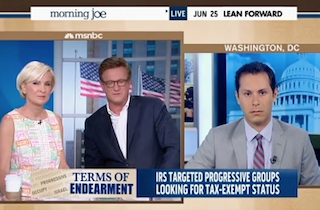 Morning Joe revisited the IRS scandal on Tuesday after recent reports that the agency also targeted progressive groups. Pushing back against the idea that this story somehow downplays the initial scandal, Joe Scarborough sparred with the Huffington Post's Sam Stein over the new developments and their implications.
As Mika Brzezinski pointed to the argument that the new report "kind of takes the legs off the other story," Scarborough emphatically disagreed. In terms of "pure numbers," Scarborough asserted that conservatives were still disproportionately targeted — but Stein and Brzezinski questioned how Scarborough could definitively know that was the case.
"What do you mean do I know that?" he countered. "I've been reading articles saying that for two months now. Are all those articles wrong? Is The New York Times wrong?"
Stein argued that those stories were based on the half the information and the additional lists show that progressive and Occupy-related groups, too, were scrutinized. They were "listed just as frequently."
"Did they choose to enforce conservatives more than progressive groups?" Scarborough pressed. "Every story that I've read in The New York Times, Wall Street Journal, Washington Post, Huffington Post, every other media outlet suggests that the enforcement was disproportionately focused…on conservatives."
Seeking to add some clarification, John Heilemann noted that Stein's argument was about how the story was evolving, with additional information now coming out.
"Listen, no, I cannot prove that Muammar Gaddafi is dead because I have not seen his corpse, but I've read the newspaper article suggesting that Gaddafi is, in fact, dead," Scarborough continued later. "Can we report that? I haven't seen his corpse. Can we report the conservative groups were disproportionately targeted? That's what I've read in newspapers."
Take a look, via MSNBC:

Have a tip we should know? tips@mediaite.com