Scarborough Takes On Panelist Over CPAC Criticism: They're Not 'Wacko Birds — They're My Friends'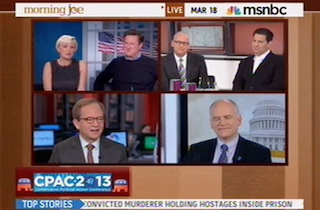 During Monday's Morning Joe, the panel's discussion eventually turned to CPAC — when they chatted about the Sarah Palin/Karl Rove spat and the "winners" of the event. Later in the segment, as some across the table quipped about the whole thing, Joe Scarborough grew defensive, telling the panelists they're not "They're my friends."
Jeb Bush's speech was "far and away the most thoughtful speech that anybody put forward," Mark Halperin asserted, but it didn't get the best reception. Neither, for that matter, was Bobby Jindal, whose jokes the panel found unnecessary and ineffective.
And then, of course, there was Marco Rubio, who came in second in the straw poll. But one other name came up in the panelists discussion of winners: Chris Christie, who, of course, wasn't invited. "Insult Chris Christie, you only make him stronger," Scarborough argued. "[He] couldn't have had it any better" — because he didn't have to go to CPAC, but was on everyone's mind nonetheless. Rand Paul, Rubio and Christie were the "three big winners," he said.
"This is always the worst three days of the year for the Republican Party," National Journal's Ron Fournier chimed in, "when you have all these wacko birds on the fringe fighting each other."
"If I could just personally distance myself from what Ron said, and from what everybody in the greater Manhattan area thinks of CPAC," Scarborough responded, "I do not believe they're wacko birds. They're my friends."
Recalling the times he's spoken at the event, Scarborough said there are "elements," but "I've also been at liberal organizing events where there were some crazy, almost bordering on violent people."
Steve Rattner jumped in to challenge Scarborough's support of Ron Paul and Rand Paul, citing the various parts of government the former wants to abolish, to which Scarborough responded that he paints in primary colors. It's the big picture, he said: restraint at home and abroad.
Later in the segment, back on the defensive note about CPAC, he asked Mika Brzezinski to admit that her side, too, is "a little wacko."
"Absolutely," she replied. "There are extremists on both sides. But if you put a whole bunch in a room, you can say that, too."
Take a look, via MSNBC:

Have a tip we should know? tips@mediaite.com