Scarborough Tears Into Christie's CPAC Snub: Maybe 'I Am A RINO' — Since GOP Doesn't Care About Winning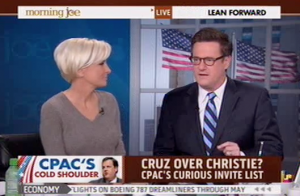 New Jersey Gov. Chris Christie — the Republican governor of a Democratic state who is enjoying an approval rating in the 70s — was apparently not invited to speak at CPAC this year. And that, Joe Scarborough asserted on Tuesday, "underlines just how out of touch some elements of the conservative movement are." The Republicans simply don't seem to care about winning.
RELATED: Lawrence O'Donnell Tears Into CPAC's 'Losers' Lineup: Will Mitt Romney 'Be Booed For Being Such A Loser?'
Displaying a partial list of some of those who were invited, the panel found the whole situation beyond mockery, with Mika Brzezinski lamenting, "This is pathetic." Looking at the selection of Sarah Palin, Mitt Romney, Rick Santorum, they seemed to implicitly agree with Lawrence O'Donnell's "loser" sentiment.
And while Scarborough was encouraged by the inclusion of the likes of Gov. Bobby Jindal and Rep. Paul Ryan, he could not get past Christie's nonexistent invitation. "It is not about winning," he said, diagnosing the conservative movement's problem. "It is about sitting inside an echo chamber of resentment."
He didn't stop there:
It underlines how little they care about electoral victories. They have a coalition that cares about talk radio ratings and understand you have to say extreme things to get those talk radio ratings. […] It's about resentment and hating Democrats and hating. That's not how you win. Maybe at the end of the day I am a RINO. Maybe some of these right-wing lunatics on the air are right. Because apparently these days being a Republican is not about winning. So maybe I should call myself a Republican In Name Only.
Because he likes to win, Scarborough said. "I like to destroy my political opponents."
Take a look, via MSNBC:

Have a tip we should know? tips@mediaite.com