Scarborough Tears Into Drone Program: 'If George Bush Had Done This, It Would Have Been Stopped'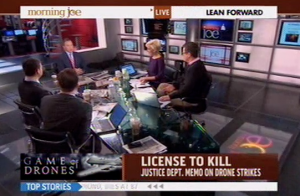 On Monday, Morning Joe examined the report on the Justice Department's memo on drones. The journalist behind the report, NBC News' Michael Isikoff, joined the crew as Joe Scarborough incredulously criticized the president's program that gives the "right to be killed."
The segment was pegged off the report about a Justice Department memo that concludes: "The U.S. government can order the killing of American citizens if they are believed to be 'senior operational leaders' of al Qaeda or 'an associated force' — even if there is no intelligence indicating they are engaged in an active plot to attack the U.S."
An "absolute mess" and "frightening" were the descriptors that immediately emerged from the panel. When dealing with these types of threats, Harold Ford, Jr. argued, "we have to make at times very messy and sometimes uncomfortable and oftentimes questionable decisions." But now Democrats should look back at how they questioned the Bush administration's tactics.
"If this was happening, and his name was Bush, I think there'd be a lot of criticism coming at this president," he said.
"If George Bush had done this, it would have been stopped," Scarborough added.
"I think it would have been certainly a huge controversy that would have erupted," Mika Brzezinski responded, noting that the issue now is how many questions the administration will face about it.
This is a new set of standards, Scarborough added, because it involves killing Americans who have a constitutional right to go before a jury. "This is just dangerous." Willie Geist noted that this goes beyond the concerns about being held without due process in Guantanamo Bay: It says, "We can kill you without due process."
"Here, they've got a right to nothing," Scarborough said. "The right to be killed by an indiscriminate drone strike if somebody's suspicious in the U.S. government."
Take a look, via MSNBC:

Have a tip we should know? tips@mediaite.com