Scarborough Tears Into NRA, Gun Manufacturers For Making 'Millions' Over 'Slaughter Of 20 Innocents'
Scarborough Tears Into NRA For Making Millions Over Slaughter Of 20 Innocents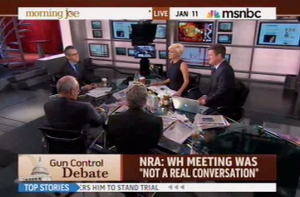 MSNBC host Joe Scarborough returned to the topic of gun control on Friday, an issue he's been vocal about since the elementary school massacre in Newtown. This time around, Scarborough was especially critical of the National Rifle Association, which, he said, has been lying to Americans to gin up fear.
Pointing to those who believe the government is coming to take away their guns, Scarborough said the GOP will be headed toward "extinction" if Republicans believe they need the survivalist vote.
And with that, he also sought to "break through the BS." This "is not, for the NRA, about Second Amendment rights," Scarborough asserted, adding that Supreme Court Justice Antonin Scalia made clear that assault weapons were not included in the Second Amendment.
"This is not about protecting the Second Amendment," he reiterated.
"This is about gun manufacturers making millions and millions and millions of dollars. This is about retailers making millions and millions and millions of dollars. Do you know how much money these people have made over the slaughter of 20 innocents in Newtown? Do you know how much richer these rich gun manufacturers have gotten over the past month, and how the NRA uses that tragedy to gin up fears, and websites use that tragedy to gin up fears that they're coming to take your guns away?"
They can't take your guns away, Scarborough stated. To those survivalists who bear the "paranoid, sick, twisted view" that the government is "coming to kill you and your children," Scarborough bid them good luck getting Republicans "to jump in your pickup truck and drive off the cliff towards political oblivion."
Take a look, via MSNBC:

Have a tip we should know? tips@mediaite.com