Scarborough: 'The Seeds Are Being Planted Right Now For The Destruction Of The House Republican Majority'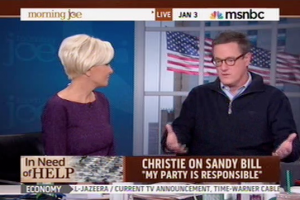 On Thursday's show, Joe Scarborough, ever introspective about his own party, naturally took to discussing New Jersey Gov. Chris Christie's harsh press conference, in which he squarely placed the blame for delayed Hurricane Sandy aid on House Speaker John Boehner's shoulders. Scarborough lauded Christie as an excellent politician who does the right thing — and bore an ominous message for his fellow Republicans.
RELATED: Chris Christie Tears Into Boehner For Delaying Sandy Aid: 'This Was The Speaker's Decision — His Alone'
"I don't mean in any way to denigrate Chris Christie's obviously heartfelt views about this, but man, as a political matter, John Boehner's Christmas present to Chris Christie is this thing," John Heilemann remarked.
The rest of the crew didn't disagree, as Heilemann went on to add: "You know, Chris Christie, 2016, it's not a bad place to be to be in opposition to a congressional Republican Party — I'm saying even within the Republican Party — a congressional Republican Party that is crumbling."
Scarborough patted himself on the back a bit, recalling when, after the Republican National Convention, he knew there was trouble for ahead for Mitt Romney and the GOP. "I will tell you, the seeds are being planted right now for the destruction of the House Republican majority," he asserted. They're being planted even before we've even talked about "the extremism that is going to be wrapped around this party."
"The men and women being sworn in today start behind the eight ball," Scarborough argued. "They are already on their way to making Nancy Pelosi the next speaker of the House."
And they better turn the ship around quickly, "or we're going to have a Democratic monopoly in Washington, D.C., on January the 4th, 2015."
Again, that sentiment seemed to be the consensus around the table. But the silver lining, Mark Halperin noted, is that they can still turn this around — because there's both a politically advantageous and substantive case to be made about the flaws of the current Republican Party by those within the party. Those such as Christie and Gov. Bobby Jindal and Jeb Bush.
With the mention of Christie, Scarborough heaped praise on the governor. Recounting his work on the budget and tackling education reform, Scarborough said "this guy does the right thing, and he's got an approval rating in the mid-70s because of it."
Watch below, via MSNBC:

Have a tip we should know? tips@mediaite.com