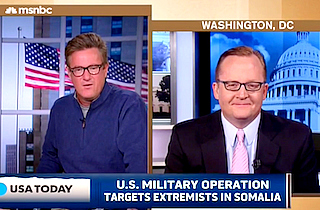 Morning Joe host Joe Scarborough defended President Barack Obama's "slip" in saying his administration had "no strategy" to deal with ISIS, but also asked former White House Press Secretary Robert Gibbs if comments like that induced pure panic among press secretaries.
"Are there oxygen masks in the press secretary's office when the president says something like he said last week, where the oxygen masks drop and you can catch a deep breath before you go talk to him?" Scarborough asked. "We all know it was a slip. But everybody in the white house had to gasp when he did that, right?"
RELATED: CNN's Acosta to Earnest: How Much Does Obama Regret That 'No Strategy' Line?
"I think whenever you have to go out next and say 'what somebody meant to say' or 'what somebody was trying to say' means you're trying to explain that winceable moment," Gibbs said. "Unfortunately, there are not oxygen masks and there's no one to tell you fasten your seat belt because there is turbulence in the area. You assume that when you go in."
Gibbs then defended, along with Scarborough, Obama's caution on military incursions in the Middle East. "This is clearly a president that has been reticent for several years to go into Syria," he said, "and understanding that going in and doing two days worth of bombing runs is not going to solve your problems with ISIS."
Watch the clip below, via MSNBC:
[Image via screengrab]
——
>> Follow Evan McMurry (@evanmcmurry) on Twitter
Have a tip we should know? tips@mediaite.com