Scarborough to Sharpton on FBI Allegations: You're 'A Great Example to People'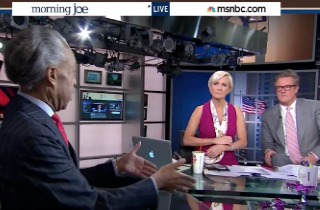 In an extensive report based on documents uncovered by The Smoking Gun, MSNBC host Al Sharpton is named as a former mafia "associate" who was complicit in criminal acts. That ended when the Federal Bureau of Investigation approached Sharpton and solicited him to buy tens of thousands of dollars worth of cocaine, taped his interaction with an undercover agent, and forced him to "flip" after he indicated he was open to the proposal.
The documents allege that Sharpton went on to extort music labels for funds for his nonprofit organization and to maintain his connections with the mob, all while collecting information for the FBI which were later applied to indictments of several major organized crime figures. To MSNBC host Joe Scarborough, this story makes Sharpton a "great example to people."
RELATED: The 5 Most Shocking Revelations in Report Alleging Sharpton Was an FBI Informant
"I helped the government against guys that were in the music industry mobsters who threatened me," Sharpton asserted on Morning Joe.
"Is that a bad thing?" Scarborough asked incredulously.
"You're supposed to do that," Sharpton replied.
He said that the FBI was attempting to "ensnare" him and his group in a plan to investigate the mafia's ties to professional boxing, which is exactly what you would say about your voluntary association with law enforcement. In fact, the allegations in The Smoking Gun report indicate that Sharpton's ties to boxing promoter Don King made him a target of interest to both the mob and to the FBI.
The Bureau allegedly sought his "help" by confronting him with a tape in which Sharpton indicated he was interested in purchasing $35,000 worth of cocaine.
"It's a great example to people," Scarborough says. "So, we've got that taken care of."
It's one thing to say that Sharpton's actions 30 years ago are irrelevant today, though I am not among them. It is another entirely to say that being forced into working for the Feds as a result of your own criminal actions makes you a "great example." It does not, and to make that kind of assertion, is at the very least, morally questionable.
Watch the clip below via MSNBC:
[photo via screengrab]
— —
> >Follow Noah Rothman (@NoahCRothman) on Twitter
Have a tip we should know? tips@mediaite.com