Scarborough: Trump's NATO Blow-up 'A Transparent Way to Carry out Vladimir Putin's Deepest Wish'
The news on Wednesday morning was all about NATO, as President Donald Trump brought attention to the issue of the spending participation of European allies by unleashing a tirade at a press event, photo opportunity breakfast.
On MSNBC, unlike on Fox News, the opening salvo from the President was not well-received.
Joe Scarborough was particularly critical, saying outright that Trump was living up to Russian President Vladimir Putin's best expectations, and America's worst.
"The president wanted to make sure that he sent the message to Vladimir Putin, while appearing to question energy shipments to Russia, that he was actually doing everything he could to disrupt the NATO summit from the start, And to also undermine America's alliance with NATO," said Scarborough, staring off, like Trump, with a bang.
He continued in the theme, suggesting not only that Trump's actions and attitude toward NATO are what Putin wants, but are destructive of America's very legacy of success and greatness.
"Donald Trump is just, once again, ignorant of history. Ignorant of diplomacy and of the very things that have gotten us to a position where we have a $19 trillion economy and by far the most powerful military and economic engine in the world," he said.
He also took a shot at Trump supporters, saying that "you might be fooled in middle America, if you have pictures of Donald Trump on your wall, you might be fooled into believing that Europe does absolutely nothing when it comes to defense."
"We now have a situation where the European Union spends more money on military defense, than does Russia," Scarborough said. "They are an extraordinarily important strategic ally of the United States of America against Vladimir Putin and his ambitions after he's invaded two countries in one decade."
David Ignatius agreed. "You would have no idea, watching the president harangue the NATO Secretary General that today, at this very minute, there are NATO forces fighting with the United States in Afghanistan, in a fight that we requested their help in," he said. "You would have no idea that that harangue was directed at the people on whom me most depend for military support."
"That footage that you showed at the beginning of the show because if people ask someday 'how is that the NATO alliance, which was the centerpiece of American defense strategy for 70 years began to unravel,' you just look at an America president who arrives and the first thing he does is pick a fight with the very pro-American Secretary General Jens Stoltenberg."
Scarborough finished the point in the above clip by reiterating that it is Putin's desires being met.
"Donald Trump going in and hypocritically attacking them, Germany, for trading with Russia, when all he has done for the past two years is talk about the need to build closer relationships with Russiais — is just so, such a transparent — I'm sure he thinks he's being clever, but it's a transparent way to carry out Vladimir Putin's deepest wish," he said, "Which is, to undermine our alliance with NATO."
Watch the clip above, courtesy of MSNBC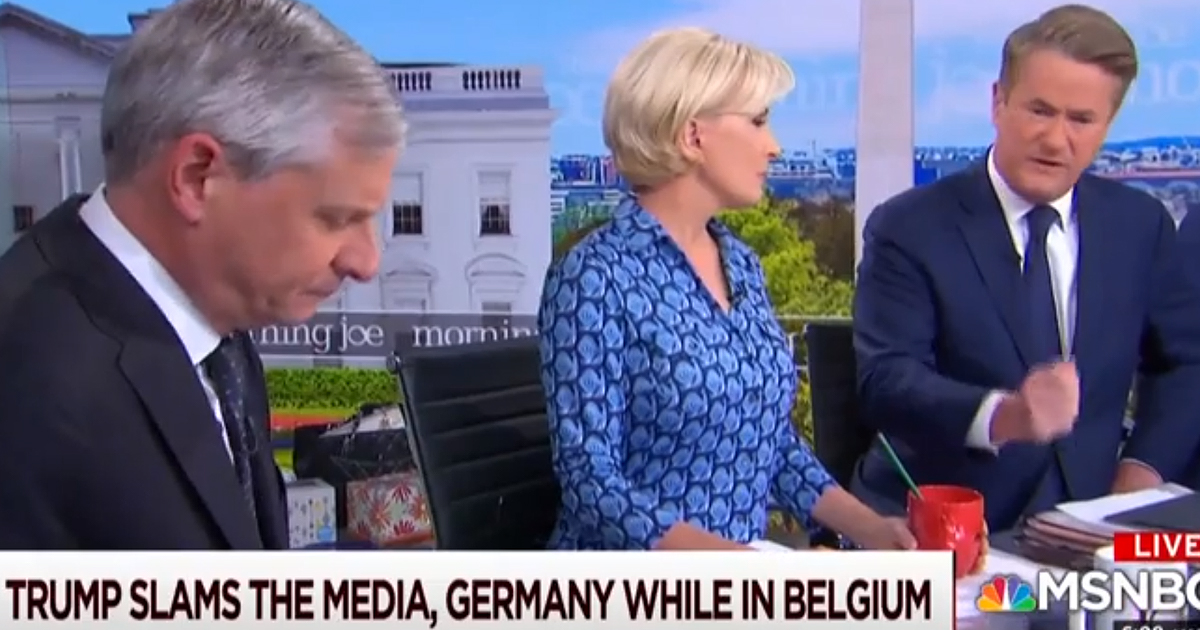 [Featured image via screengrab]
—
Follow Caleb Howe (@CalebHowe) on Twitter
Have a tip we should know? tips@mediaite.com