Scarborough Unloads on Co-Host's 'Apologizing for the White House' over Benghazi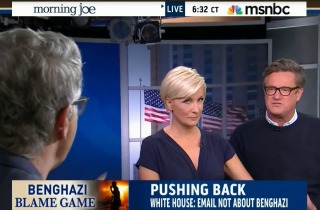 MSNBC host Joe Scarborough did not appear satisfied with his co-hosts' reaction to yesterday's remarks from White House Press Secretary Jay Carney over the newly released emails linking the White House to former United Nations Amb. Susan Rice's talking points on the Benghazi attack. Scarborough unloaded on Donny Deutsch after his first reaction was to warn Republicans to not overreact to the news. The MSNBC host contended that this was not an appropriate reaction to the revelations about a White House not being forthright.

"The spokesperson for the White House is saying a directive to Susan Rice about Benghazi is not about Benghazi," Scarborough observed. "No, it's about Benghazi."
"I want to put up a warning here for the Republicans," Deutsch replied. "I think this is fool's gold for 2016."
"What about the cover-up for the White House?" Scarborough interjected. "I've got everybody here apologizing for the White House. What about a cover-up, Donnie?"
RELATED: Carney, Karl in Heated Exchange Over Rice's Benghazi Talking Points
"Why are you jumping to political strategy?" he continued. "So, tell me, what's the politics of the White House lying about something that we all know they're lying about?"
"You see the White House spokesperson lying on national television. You see an ABC Newsperson shocked that he's lying and treating the press corps like they're stupid. He says it's not about Benghazi. Republicans and conservatives have been called fools for a year now for saying this happened. They don't release it with the original the documents. They finally, reluctantly are forced to release it. Then you have the White House lying about it, saying it's not about Benghazi, and you're only reaction is, 'Hey, Republicans better not overreact to the cover-up?'"
"We, as voters, understand both Republicans and Democrats are political animals and are going to manage a crisis to their favor," Deutsch contested before he was interrupted.
"So, when Democrats cover something up, it's politics," Scarborough interjected. "When Republicans cover something up, it's a scandal." He closed by calling his co-hosts reaction to the White House's behavior a "disgrace."
Watch the clip below via MSNBC:
[Image via screengrab]
— —
>> Follow Noah Rothman (@NoahCRothman) on Twitter
Have a tip we should know? tips@mediaite.com