Scarborough's Claim Electorate Is 'Increasingly Conservative' Disproved by His Own Poll
Morning Joe host Joe Scarborough used an NBC News/Wall Street Journal poll Tuesday morning to show that "Americans, on issues, look increasingly conservative."
Scarborough cited the preeminence of concern over jobs, fighting ISIS, reducing the federal deficit, and addressing Iran's nuclear program as proof that the electorate's priorities were trending conservative: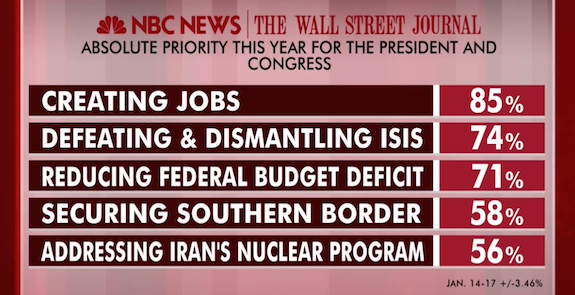 The poll in fact shows the opposite. Looking at the trends from this point in 2014, which were included in the poll, on almost every issue Scarborough cited the electorate actually moderated its sense of urgency, by measurable though not considerable margins. (This was the first year NBC polled on ISIS on border security.)
Creating jobs:
January 2015: 85
January 2014: 91
Reducing the federal budget deficit:
January 2015: 71
January 2014: 74
Addressing Iran's nuclear program:
January 2015: 56
January 2014: 60
January 2006: 64
A far more likely explanation than Scarborough's trending-conservative thesis is that these are perennial concerns that have decreased in severity, in large part thanks to declining deficits and unemployment.
Meanwhile, the urgency of addressing income inequality rose a bit from 2014, something that fits in well with Obama's expected State of the Union address this evening. And on climate change, one of Scarborough's primary examples of issues on which Obama is focused against the electorate's wishes, the sense of urgency actually rose by seven points, with fewer respondents believing action should be delayed:
January 2015: 34
January 2014: 27
To be clear there's no "trending liberal" story here, and there are certainly numbers in NBC's poll to displease the White House. But nothing in this poll shows an American public on the rightward march.
Watch the clip below, via MSNBC:
[Image via screengrab]
——
>> Follow Evan McMurry (@evanmcmurry) on Twitter
Have a tip we should know? tips@mediaite.com