School Board Vetoes 'Cougar' Mascot Because It Might Be Offensive To Older Women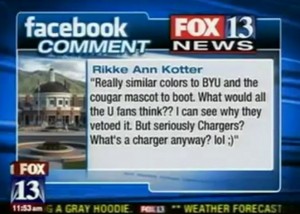 Here's an item that will soon be making the rounds of the cable news fluff-and-fill segments, or at least it should: the Draper Utah school board has reportedly rejected the democratically elected mascot of a new high school because the name, "Cougars," could be offensive to "middle-aged women."
"Cougar," in case you missed the 21st century, is a slang term for older women seeking younger male companionship. The board will now have a run-off election between runners-up "The Beavers" and "The Red Snappers."
I'm kidding, of course. Students of the Corner Canyon High School will be known as the "Chargers," which didn't sound dirty before, but now makes me wonder exactly what they'll be charging.
Now, before you go all apoplectic about political correctness run amok, the board also cited, as a reason for rejecting the Cougars, that "the Cougar is also a mascot for three other Utah schools, plus Brigham Young University, whose school colors are also blue and white."
That kind of reminds me of that scene in Reservoir Dogs, when they're handing out names, and Lawrence Tierney's Joe puts his foot down. "You got four guys all fighting over who's gonna be Mr. Black, but they don't know each other, so nobody wants to back down. No way, I pick."
Salt Lake City Fox affiliate KSTU has been all over this story, so before it hits cable news, you have to check out the awesomely local report on the erstwhile Cougars. The Fox 13 News team covered the story with a social media angle (a Facebook user asks, hilariously yet sensibly, "What's a 'Charger,' anyway?"), all with a chirping bird in the background.
The Cougar story leads into a segment with a local Humane Society worker who is trying to find a new home for the bird, a 10 year-old Quaker Parrot. His name (which he apparently doesn't like)?
"Spanky."
Here's the clip, from KSTU-SLC:
(h/t)
Have a tip we should know? tips@mediaite.com