Schultz And Bashir: Ann Coulter 'Absolutely Right' Conservatives Have A 'Problem With Charlatans'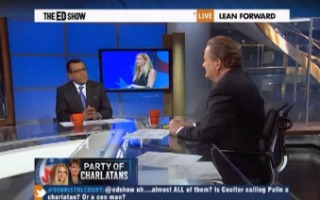 Satan must be getting frostbite tonight, because MSNBC colleagues Ed Schultz and Martin Bashir found themselves agreeing with none other than, as Schultz phrased it, "right-wing hate merchant" Ann Coulter.
"I think our party," Coulter told a crowd in Florida, "and particularly our movement, the conservative movement, does have more of a problem with con men and charlatans than the Democratic party."
Perhaps Coulter, Schultz suggested, is worried about others stepping in on her book-promoting turf.
RELATED: Ann Coulter To O'Reilly: Michigan Win Shows 'Democrats Are Terrified' Of Romney
Bashir had brought his reading glasses to the show (That joke is for RuPaul's DragRace fans. My sincere condolences to you if you've yet to discover and enjoy its unique melding of charisma, uniqueness, talent and nerve.), declaring this year's GOP primary race "something akin to a Mr. Universe contest for men with learning difficulties." BUT! He later added that "Ann Coulter is absolutely right in her withering criticism of these individuals," particularly Sarah Palin.
While Schultz found it odd that Coulter would condemn charlatans yet "support Romney," Bashir asked what choice, really, she had. She can either go back to the 13 century with Rick Santorum, he joked, or bow down to the ludicrous King Newt, against whom men will have to lock up their wives and daughters.
Furthermore, said Bashir, the GOP candidates are running for less-than-altruistic reasons, with Paul running for the sake of his son, Gingrich running with Callista to sell children's books about an elephant, and Romney, frankly, running because he's a rich man with nothing else to do.
RELATED: Meet Ellis, The Patriotic Star Of Callista Gingrich's Upcoming Children's Book
Watch, via MSNBC:
Have a tip we should know? tips@mediaite.com