Ed Schultz: Marco Rubio Should Apologize To His Parents For Attacking Entitlements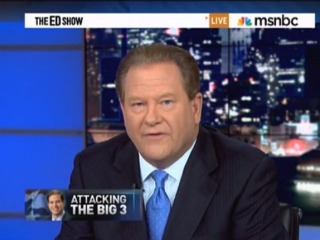 Florida Sen. Marco Rubio (R) is using the impassioned reactions of two MSNBC hosts to his August 24th speech — during which he shared his view that social programs have "weakened" Americans — to drum up additional money for his PAC, "Reclaim America."
After the speech, MSNBC's Ed Schultz called the Senator a "hack" and dismissed his views as "flat-out psycho talk." His colleague Rachel Maddow pointed out that one social program, Medicare, had formerly benefited Rubio's own father. So, can that criticism translate into donations for Rubio's PAC? The group certainly hopes so! Here's a portion of an email sent out by Reclaim America:
MSNBC's Rachel Maddow chopped up Marco's words and distorted them, even weaving in mentions of Marco's parents to attack him.

Ed Schultz attacked Marco's speech as "psycho talk" and called Marco a "political hack".

These are the typical attacks that are routinely launched against those who are standing up for our conservative principles.

These extreme liberals have no interest in finding common sense solutions to the challenges facing our country. They just want to attack and tear down anyone who doesn't share their extreme ideology.

Which is why we need your help us fight back. Your contribution of $100, $50, or even $25 will help us defend conservatives like Marco all across the country.
Schultz, for one, is not having it. On his show Thursday night, the host offered his reaction to being labeled "extreme:"
I'm extreme, we're extreme, because, as Americans, we have Social Security, we have Medicare and Medicaid — more on that in a moment. Now this email went on, of course, to beg for money. [Reads portion of email in Fran Drescher's voice.] When we say the story, Ed Schultz show producers, well, we reached out to Rubio to invite him on this program tonight. His office gave us a five word response: "He is not available. Thanks."

Our producers told Rubio's office our doors will always be open anytime, any place on The Ed Schultz Show, Senator. You see, Rubio is a political coward. He doesn't have the guts or the character to debate his reckless statements on this show; he can hide elsewhere.
Schultz added that Marco's insinuation that these programs have resulted in diminished respected for elders one of the "most offensive" he's ever heard and an attack on "the character of Americans." He then shared his personal experience with his parents and these "Big Three" programs, calling on Rubio to give his parents an apology for his comments.
Take a look at the complete segment, via MSNBC:
Have a tip we should know? tips@mediaite.com