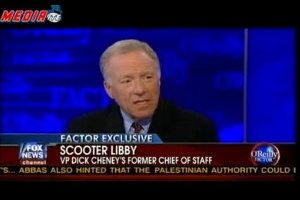 O'Reilly Factor guest host Monica Crowley presided over quite a night on the show tonight, as they got an exclusive with ex-Dick Cheney chief of staff Scooter Libby. It was Libby's first interview since being convicted on four counts of perjury and obstruction of justice in 2007. As one might expect, Crowley didn't exactly put Libby through the gauntlet.
Libby wisely avoided any harsh attacks that could be easily turned against him – his response to Crowley's first question of how effective President Barack Obama's "policy of engagement" with Iran has been (especially regarding dissuading the nation from building a nuclear weapon) was that "it's useful" to analyze Obama's stated view as presidential candidate and president-elect "that a nuclear weapon in Iranian hands would be unacceptable." He ultimately concluded that "if it's truly unacceptable" for Iran to have a nuclear weapon, that "we have a problem." He offered a similarly tepid critique of certain aspects of the Bush administration's Iran policy, saying at times there was "more that might have been done with the Iranian opposition, for example."
Crowley first (ambiguously) mentioned Libby's conviction halfway through the interview, calling it a "ridiculous, politically motivated case against [him]." She also later referred to the case as an "absurd political witch hunt." After more very mild criticism from Libby (ex. that "whether [Obama's] worldview matches the reality of the world is a question to me"), Crowley finally asked if Libby hopes for a pardon. Libby's response was that he learned from his career as a public servant that "the world's not just" and "that it doesn't do a lot of good to whine."
Crowley lauded Libby as a "class act," and during this interview, he gave no indication she was wrong. He avoided the hyper-partisan sniping so many are given to, and even if it was just because he knew he'd be relentlessly criticized for anything more, it deserves some praise. Libby said it doesn't do a lot of good to whine, and to his credit, he didn't. Video of the segment below.
Have a tip we should know? [email protected]