Scott Brown Accepts Senate Debate With Elizabeth Warren, As Long As MSNBC Drops Out As Sponsor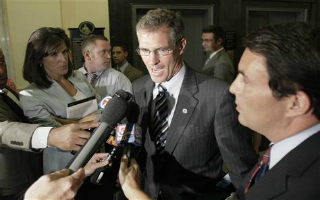 On Monday, Massachusetts Republican Sen. Scott Brown said he would accept a debate between himself and Democratic senate candidate Elizabeth Warren at the Edward M. Kennedy Institute – so long as MSNBC drops out as the debate's sponsor.

RELATED: Senator Scott Brown's Daughter Benefits From Same Health Care Bill Her Dad Opposest
Brown was invited to the debate by Vicki Kennedy, second wife of the late Sen. Ted Kennedy. Brown also stipulated that as part of his accepting to participate in the September 27 debate that Kennedy must remain neutral and not endorse either candidate.
The third in what will be a series of senatorial debates in the Bay State, many of Brown's supporters were questioning whether it would be beneficial to his campaign to accept a debate that is being hosted by a liberal Democrat and is sponsored by a left-leaning cable news network.
In a letter to the Edward M. Kennedy Institute, Brown's campaign manager, Jim Barnett, sounded a note of caution in their acceptance of the terms of the final debate.
"In order to proceed, we need to know that in keeping with the spirit of neutrality expressed in Vicki Kennedy's letter that she will not endorse or otherwise get involved in this race," writes Barnett.
In the letter, Barnett offered muted praise for former NBC News anchor Tom Brokaw, who has been tapped to moderate the debate in a Senate contest that has widely come to be seen as an ideological proxy battle symbolic of the nation's political divide:
Furthermore, while we accept Tom Brokaw as a moderator, we prefer debates with local media sponsors, not out-of-state cable networks with a reputation for political advocacy. We are confident that issue can be easily addressed as there are a number of Massachusetts media outlets that would be willing to sponsor a debate such as the one you are proposing for the Kennedy Institute, and I'm sure they would be pleased to have Mr. Brokaw as moderator.
The Boston Globe reports that Warren, too, has agreed to only some of the proposed debates and has declined to participate in any untelevised contests.
Brown has agreed to two radio debates, including one being moderated by Dan Rea, a conservative-leaning talk show host, and another hosted by Margery Eagan, a Boston Herald columnist, and Jim Braude, a Democrat and former Cambridge city councilor. Warren has agreed to the consortium debate but not the radio debates, saying she wants to reach a larger audience through television.
h/t Politico
> >Follow Noah Rothman (@Noah_C_Rothman)on Twitter
Have a tip we should know? tips@mediaite.com