Scott Olsen, Iraq Vet Hurt In Occupy Oakland Protests: 'It Was Kind Of Weird To Be A National News Story'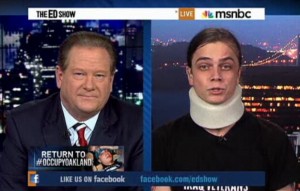 Scott Olsen, the Iraq war veteran who had his skull fractured in late October at the Occupy Oakland protests, made his first two media appearances since being injured on Tuesday. First, IndyBay.org posted an interview to their site that they had conducted on Sunday, where Olsen talks about the injury and his recovery. Later, Olsen appeared on MSNBC's The Ed Show, and fielded questions from Ed Schultz about his symbolism among the Occupy protesters.
IndyBay.org asked Olsen if he could remember anything from the night he was knocked out. Olsen said he had his phone out and was texting a friend when he was hit in the head with a projectile. "Next thing I know, I'm down and on the ground, and there are people above me trying to help me, and they ended up carrying me away."
Olsen's speech is a little slurred, and he still has some trouble pronouncing and even recalling some words. He says that the rehabilitation process has improved his speech markedly.
"Initially, I couldn't form any words, I couldn't make any words. My brain was pretty much all there. Mentally, I was there. I just couldn't spit these things out of my mouth."
Later, on The Ed Show, Olsen told Schultz that while it was "kind of weird" and "a bit overwhelming" to be a national figure, he's happy to be somebody, "to look up to for some people." Schultz then asked him why he was in the protests, and why he says he will return to them.
"I'm there protecting the rights that we have," he said. "When I took the enlistment oath, when I joined the Marines, I swore to uphold and defend the Constitution from enemies foreign and domestic. And I'm continuing to do that."
The IndyBay video can be found here, or watch Olsen's interview with Schultz below, courtesy of MSNBC:
Have a tip we should know? tips@mediaite.com