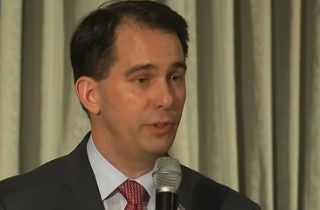 The great investigation into which current and potential Republican candidates for president have or would attend the same-sex wedding of a loved one continued this weekend when a reporter asked Gov. Scott Walker (R-WI) the question that has somehow come to dominate this conversation this week.
"That's certainly a personal issue," Walker said during a press conference in New Hampshire Saturday night. He went on to explain that he has attended a wedding reception for a same-sex couple, but not the actual ceremony. "I haven't been to a wedding. That's true even though my position on marriage is still that's defined between a man and a woman, and I support the Constitution of the state. But for someone I love, we've been at a reception."
The New York Times' Patrick Healy reported that Walker was "away on business when the wedding occurred, but he later attended a reception for the newlyweds."
The couple in question Shelli Marquardt — a cousin of Walker's wife — and her partner, Cathy Priem. Alex Walker, the governor's younger son, signed his name to the marriage certificate as a witness. It was that same son, who, along with his older brother Matt, have lobbied Walker to change his stance against gay marriage.
Walker told BuzzFeed in 2013 that his sons had a "solid argument," adding "I personally may not embrace that yet. But that, to me, is a bigger question… I get their concerns."
As of Monday, Sen. Marco Rubio (R-FL) and Gov. John Kasich (R-OH) have both said they would attend same-sex weddings while Rick Santorum said he "would not" and Sen. Ted Cruz (R-TX) did his best to avoid the question altogether.
[Photo via screengrab]
— —
>> Follow Matt Wilstein (@TheMattWilstein) on Twitter
Have a tip we should know? tips@mediaite.com