Scottie Nell Hughes Refers To 'Molotov Cocktails' as 'Mazel Tov Cocktails' While Ripping Jay Z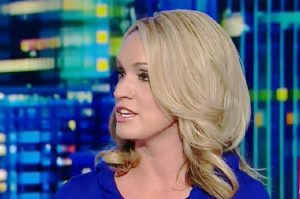 During a late-night panel discussion on CNN, political commentator and Donald Trump supporter Scottie Nell Hughes got her terminology all mixed up while trying to defend Trump's criticism of Jay Z and Beyonce.
Ever since the pop power couple held a get out the vote concert for Hillary Clinton in Cleveland last week, the GOP candidate has been on the attack, highlighting Jay Z's profane lyrics and painting Clinton as a hypocrite for condemning Trump's language. Of course, Trump also had outspoken musician Ted Nugent stump for him last night, complete with the Nuge grabbing his crotch and cussing on stage.
In an attempt to paint Trump's criticism of the hip hop artist as being more about Jay Z's and Beyonce's anti-police message, Hughes tried to describe a moment in a recent video, but got one thing very, very wrong.
"One of his main videos starts off with a crowd throwing mazel tov cocktails at the police," Hughes stated.
"Molotov cocktails," host Don Lemon helpfully injected.
It appears that Hughes was trying to discuss the video for the 2012 Jay Z/Kanye West song 'No Church In the Wild,' which begins with a man throwing a molotov cocktail (a bottle filled with flammable liquid and lit on fire) at a line of police clad in riot gear. Mazel tov, meanwhile, is a Jewish phrase meaning congratulations or good luck.
It didn't take long for this to trend on Twitter, as you could imagine.
While concerned, certainly, about Mazel Tov Cocktails, I'm much more worried about WMDs (Weapons of Matzoh-ball Destruction)#ScottieHughes

— lancegould (@lancegould) November 7, 2016
Never too early for that "Mazel Tov cocktail"

— mia farrow (@MiaFarrow) November 7, 2016
If the Manischewitz company Twitter account doesn't have a field day with "mazel tov cocktail," they need to find a new social media team.

— Jon Becker (@jonbecker) November 7, 2016
The mazel tov cocktail thing reminds me of one of my favorite Daria lines: "You just hide in your room like a Kermit!"

— Katherine Miller (@katherinemiller) November 7, 2016
Watch the clip above, via CNN.
UPDATE 1:17 PM ET: Scottie Nell Hughes replied on Twitter that lack of sleep was the motivating factor in her making this flub.
@RoySekoff @CNN trust me.. I realized at that moment, I should have taken a nap at some point the last 24hrs.

— Scottie Nell Hughes (@scottienhughes) November 7, 2016
[image via screengrab]
–
Follow Justin Baragona on Twitter: @justinbaragona
Have a tip we should know? tips@mediaite.com