SCOTUS Expert: Affirmative Action Decision Is 'Liberal Victory,' But Voting Rights Case 'Complete Disaster'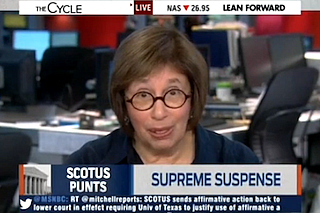 Former New York Times Supreme Court reporter Linda Greenhouse argued to MSNBC's The Cycle on Monday afternoon that the Supreme Court's affirmative action decision was a liberal opinion masquerading as a narrow conservative decision. "This really counts as a very substantial liberal win at the Supreme Court," she said, "because the conservatives reached out for this case, and they couldn't deliver."
The high court heard arguments on the case last October, but today ruled that it needed to be sent back to the Fifth Circuit for extra scrutiny. Many wondered why the Court took so long just to "punt," in the agreed-upon terminology.
"The court has labored on this case for eight months and brought forth a mouse," Greenhouse said. "I don't think the law has changed at all."
Greenhouse suggested that the conservative members of the Court had taken up the case as a prime opportunity to overturn affirmative action, only to find that the details of the case didn't support their cause, at which point Justice Anthony Kennedy was drafted to write them out of a jam. (No one puffs legal clouds like Kennedy.)
"All [Kennedy's] suggesting is that we got into this case improminently and need a face-saving way out," Greenhouse said. "So we've got to string a bunch of words together that looks like we're making law. I actually strongly think they aren't."
As for the case's future, Greenhouse didn't think the lower court would do much of anything with it.
"The Court of Appeals of the Fifth Circuit thought it was applying settling Supreme Court law," she said. "I think it was. It's now up to the Circuit to reiterate that, if it chooses to do so. Who knows—maybe the case is moot. Abigail Fisher, the young woman who was recruited to bring this lawsuit, has long since graduated from a different college. She has no continuing interest in this matter. It's not a class action. She's the only plaintiff. So the Fifth Circuit, if I understand federal court procedure, is free to say, 'Thanks for the good advice and this case is finished.'"
Ari Melber read Kennedy's narrow ruling as inching toward the conservative view, which tries to read race out of law, and asked if perhaps that indicated where the court would land on the Voting Rights Amendment, which will most likely be handed down tomorrow.
"The voting rights cases, yes," Greenhouse said, "that could be a complete disaster from a civil rights point of view."
Watch the clip here, via MSNBC:
—
>> Follow Evan McMurry (@evanmcmurry) on Twitter
Have a tip we should know? tips@mediaite.com