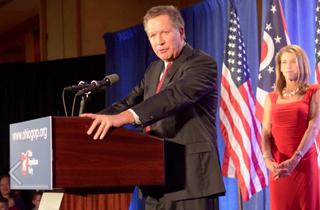 In a conference call to its investors and analysts, E.W. Scripps CFO Tim Wesolowski admitted that the media corporation lost approximately $10 million in revenue by covering the Ohio governor's race — a race they predicted to be highly competitive, but ended up being a foregone conclusion.
"Political spending is about the footprint and the competitiveness of each individual race," Wesolowski explained, according to the Cincinnati Business Enquirer. "Races that we thought would be competitive never materialized."
The biggest disappointment, he noted, was the race between GOP incumbent John Kasich and Democrat Ed FitzGerald, who was defeated in the proverbial definition of a landslide: FitzGerald won only two of Ohio's 86 counties in the November election after a series of embarrassing events, such as the discovery that he did not have a driver's license. (Kasich had been polling in the double digits since July.)
As a result, not only did Scripps lose money by sending reporters to cover a race that no one watched, it lost millions in potential political advertising revenue from the campaigns and PACs.
It's not all bad news for Scripps, however: though they lost money in Ohio, they still got tons of money by selling political ads in other hotly contested races — Arizona, Michigan, Florida and Colorado — and generated over $58 million from the election, a 21% gain over the spending in the 2010 midterms. (That pales in comparison to the cash they generate during a presidential year: the 2012 race netted them $161 million.)
[Cincinnati Business Enquirer]
[Image via John Kasich/Facebook]
—
>> Follow Tina Nguyen (@Tina_Nguyen) on Twitter
Have a tip we should know? tips@mediaite.com