Seahawks Player Blames Crazy Super Bowl Loss on Anti-Marshawn Lynch Conspiracy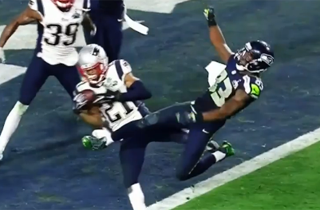 For decades to come, no one will ever be able to find the logic in Pete Carroll's decision last night to not give the ball to Marshawn Lynch, have him Beast Mode past the one-yard line, win a Super Bowl for the Seattle Seahawks, and make the easiest decision in the world. Seriously. Even Carroll couldn't coherently explain why he decided to throw.
According to some shellshocked Seahawks players, however, there's a conspiracy theory behind The Dumbest Play Ever: Carroll, fed up with Lynch and his defiantly closemouthed press conferences, wanted to take the glory away from the running back. As NFL columnist Mike Silver reported from the locker room:
I'll spare you the numerous "What the (expletive) was he thinking?" mutterings I overheard from people in Seahawks uniforms and refrain from lending any legitimacy to the conspiracy theory which one anonymous player was willing to broach: That Carroll somehow had a vested interest in making Wilson, rather than Lynch, the hero, and thus insisted on putting the ball in the quarterback's hands with an entire season on the line. "That's what it looked like," the unnamed player said, but I'd be willing to bet that he merely muttered it out of frustration, and that it was a fleeting thought.
And that's just a guy off the record. On the record, Seahawks players openly questioned Carroll's decision, because, really, when Football God gives you the craziest catch and a chance to win the game half a yard away from the end zone, you don't question Football God's blessing:
When I asked receiver Doug Baldwin, in a quiet conversation near his locker, if he was shocked by Carroll's decision to throw, he shook his head and said, "Come on, man, you've got common sense, too… We have nobody to blame but us. My first thought was that we were gonna run it in — but coaches, they're the ones that they know it better than us."

Seattle linebacker Bruce Irvin was even more pointed, telling me, "We beat 'em, bro. We beat 'em… I'm speechless. Best back in the league, and the 1-yard-line? It wasn't even the 1 — it was like half a yard. I will never understand that, bro. I will never understand it. I will never understand…

"When Jermaine [Kearse] caught that ball, I felt it was meant to be for us. Oh, no doubt — we're gonna score. Beast Mode. Beast Mode! Best back on the (expletive) planet. That's crazy!"
Patriots player Malcolm Butler, the undrafted rookie fresh from juco football who saved the Pats and took a month off this author's life, easily saw the play coming: "Goal line, preparation, the formation they were in with the two-receiver stack, I just knew they were throwing a pick route," he said, according to ESPN.com. "It was on the line, we needed it, and I just beat [Seahawks player Richard Lockette] to the route and made the play."
Short story: the play was that obvious, and Pete Carroll is a dumb.
[h/t Deadspin]
[Image via screenshot/ESPN]
—
>> Follow Tina Nguyen (@Tina_Nguyen) on Twitter
Have a tip we should know? tips@mediaite.com