Sean Hannity And Bill Bennett Trash Ron Paul: 'The Candidacy Isn't Going Anywhere'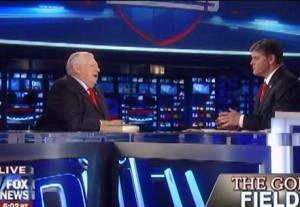 We sensing a trend today? This evening on Fox News, Sean Hannity echoed (and added to) a thread begun by Chris Wallace and supplemented by Bill O'Reilly and guest Dick Morris: Electing Ron Paul as the GOP candidate will result in Barack Obama's re-election.
RELATED: Fox's Chris Wallace: If Ron Paul Wins In Iowa, It Will Discredit The Iowa Caucuses
Hannity brought on Bill Bennett, radio host and former director of the Office of National Drug Control Policy, to discuss what the future may hold for Ron Paul. Bennett opined that Paul could "win this" due to his organization. Hannity agreed, adding that Paul's supporters are notoriously passionate about their candidate of choice.
The host also noted that, while he likes Paul's promise that he'll cut a trillion in spending right off the bat, he cannot reconcile with his foreign policy. "No, well, there is none," Bennett agreed.
RELATED: Bill O'Reilly And Dick Morris Bash Ron Paul: He's Not Going To Be The Nominee
Hannity then pointed to certain eyebrow-raising opinions espoused by Paul's newsletter back in the 80s and 90s. "Now, this was in his newsletter," Hannity reiterated. "He says he had no idea who put the newsletter together, no idea who wrote it." The host added that he's surprised this hasn't been "more of an issue."
Bennett's response and overall assessment of Paul as a future commander-in-chief was probably as blunt as it could get:
Look, there is no foreign policy. There's no commander-in-chief because his notion of foreign policy is impossible. There's also other stuff, conspiracy theories about 9/11 and so on. So, the candidacy isn't going anywhere except if he wins Iowa. Now, the reason that could be important, obviously he leaves things undecided, but he then may get the big head and decide after several more states that he's gonna go in and be the third party candidate. And then you're giving the election to Barack Obama.
Hannity heartily agreed. Bennett then added that he hopes "the myopia is not such that he thinks these other guys are just like Barack Obama because they're 'Big Government.'"
"Look, he calls me, Rush Limbaugh and Mark Levin 'statists,'" Hannity reminded him.
RELATED: Sean Hannity Pushes Ron Paul To Explain Comment That Hannity Was A 'Statist'
Have a look at their discussion, via Fox News:
Have a tip we should know? tips@mediaite.com