Hannity And Krauthammer: GOP Grassroots Excitement Over Paul Filibuster Could Rejuvenate Party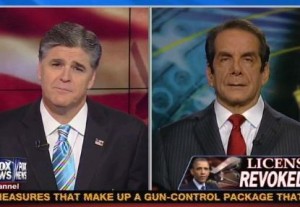 Sean Hannity admitted tonight that despite clarifications from the White House and Eric Holder, he still has serious concerns about the United States' drone strike policy. Hannity brought on Charles Krauthammer to talk about Rand Paul's 13-hour filibuster and how it may be a factor in the rejuvenation of the Republican party grassroots. Hannity and Krauthammer agreed there is great momentum against President Obama that the Republican party can latch onto if they play their cards right.
RELATED: What's 'Cooler' Than Being 'Cool'? Rand Paul's Filibuster, According To Fox News' The Five
Krauthammer said of Paul's filibuster that it would be a stunt "except for the fact that he was entirely sincere and he was entirely right," adding that people do have concerns about what powers the executive branch has to launch drone strikes in the United States. He told Hannity that Holder has been very poor in attempting to defend Obama's position.
Hannity surmised that Holder was trying to play games with Paul in his original letter on the drone strike program. Krauthammer explained that Holder has to walk a fine line and defend the right of the president to "act on his own unconstrained." Hannity said that between the Obama administration's scare tactics on sequestration backfiring and Paul's filibuster, there is now "energy" in the conservative grassroots pushing back against Obama. Krauthammer said Obama has definitely read the tea leaves, explaining his dinner and lunch meetings with Republican members of Congress.
Hannity ended by asking Krauthammer how the GOP could effectively make their case for a balanced budget against "President Apocalypse." Krauthammer pointed out the last time Obama spoke out against a budget proposal put forth by Paul Ryan, Obama responded to it by lobbing insults, and called on Democrats in the Senate to put together a budget of their own.
Watch the video below, courtesy of Fox News:
—–
Follow Josh Feldman on Twitter: @feldmaniac
Have a tip we should know? tips@mediaite.com
Josh Feldman - Senior Editor