Sean Hannity and Michelle Malkin Bash The Obama Administration For 'Silence' Over Egypt Protests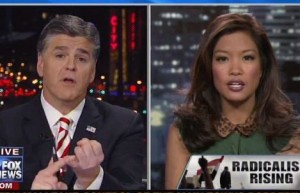 Sean Hannity and Michelle Malkin focused on recent events in Egypt tonight and, specifically, how the media and the Obama administration has been dealing with them. Hannity highlighted an Egyptian court ruling sentencing eight Christians involved with the film Innocence of Muslims to death as evidence that "Christians are under attack by Muslim extremists."
RELATED: Michelle Malkin Goes Off On 'Den Of Lying Liars And Crap Weasels' In White House Over Libya Attacks
Hannity wondered why the State Department is not condemning Mohammad Morsi as a "dictator" following a decree giving him more presidential power. Malkin blamed the "fog of moral equivalence" at the State Department for a lack of U.S. action. Malkin criticized the media for not covering the most recent protests in Tahrir Square because they do not help push the narrative of "self-appointed progressives" pushing for democracy.
Malkin also highlighted reports of women being beaten and sexually assaulted in Egypt that have not been picked up by the media. But she reserved her harshest criticism for the Obama administration's silence on events unfolding in Egypt.
"The silence from this administration about Christian persecution, the silence about the sentencing to death of these Coptic Christians and Terry Jones over this stupid video, the silence about the suppression of free speech that continues in Egypt is damning and it is an indictment of this administration for continuing to back what these democracy movement activists are calling the 'New Pharaoh.'"
Hannity asked why the Obama administration does not seem to understand the "danger" posed by Morsi's regime to the rest of the world. Malkin suggested that, in fact, they do, and mocked "progressive pablum" in arguing why the Muslim Brotherhood has amassed such power in Egypt.
Watch the video below, courtesy of Fox News:
—–
Follow Josh Feldman on Twitter: @feldmaniac
Have a tip we should know? [email protected]
Josh Feldman - Senior Editor