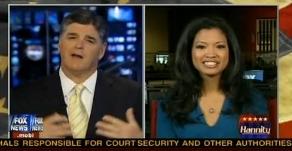 Sean Hannity teased his interview last night on Twitter (he's new, and active) with conservative commentator Michelle Malkin, writing, "I actually disagree with @michellemalkin on something! We'll discuss it tonight on TV."
So what happened in the big conservative showdown? Mostly agreeing.
Malkin started by saying, "It's not the privacy concerns that bother me so much, Sean, as it is the fundamental issues of trust and competence."
She went on to note that, while she's "not opposed to some of what Obama has now ordered," the new measures mean "all of the rest of us will be massively inconvenienced to somehow make us all feel better."
Well that sounded about right to the Fox News host. "I'm supposed to be disagreeing with you and I've yet to find one thing you've said that I disagree with," said Hannity, later thinking out loud that next time he has "to invite an ACLU person on."
What Hannity initially thought he would disagree with is the idea of whether body scanners are viable at all. In truth, both he and Malkin (and many conservative critics of Pres. Obama's recent security decisions) want scanners in use, but want it with some level of profiling. Hannity's main point: "If this would prevent an underwear bomber and we could all get on a plane knowing nobody on that airplane has a bomb, I would prefer peace of mind." And of course, Malkin mostly agrees.
The Bill O'Reilly/Ann Coulter body scanner interview the night before was ultimately a little more contentious, but mainly because the political ideologies of the duo are farther apart. And also – no 'anus bombing' discussion on Hannity.
Here's the Hannity/Malkin "showdown":


—–
» Follow Steve Krakauer on Twitter
Have a tip we should know? tips@mediaite.com