Hannity And Panel Savage Michael Moore For Suggesting Sandy Hook Victims Should Be Used As Political Props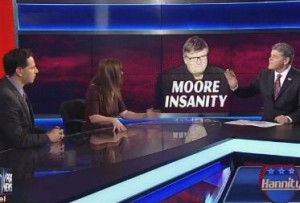 Sean Hannity absolutely savaged Michael Moore on his show tonight for his comments about how pictures of the Sandy Hook victims should be released to "finish off the NRA," not considering the fact that grieving parents might not want the bodies of their dead children used as political props. Hannity and the panelists found nothing but scorn and disdain for Moore's comments.
Hannity said Moore's comments were not only horrifyingly offensive, but also "weird and horrific." He said that Moore was just being a desperate attention-seeker who cares more about promoting a political agenda than the feelings of grieving families. Leslie Marshall made it absolutely clear that Moore is a lone voice who does not represent all gun control-supporting liberals, saying that while she's sympathetic to the idea of making gun rights backers aware of the carnage resulting from gun violence, Moore was wildly off the mark.
RELATED: Michael Moore Calls For Release Of Sandy Hook Dead Body Pictures To 'Finish Off The NRA'
Hannity and Marshall fought over whether guns could be used in dire situations for protection, with both calling each other's statistics lies. Tony Sayegh rightly pointed out that no matter who tries to exploit children's corpses, it should be universally considered a bad thing. He argued that after Newtown, pro-gun advocates said that "everything is on the table [and] let's have a comprehensive conversation." It is very doubtful that the NRA was included in that mix.
Hannity took on Marshall over her insistence that she does not need a gun to feel protected. Marshall said shooting a human being is very different than shooting a gun, and in many cases shooters breaking into houses may end up getting away even if there is a gun in the house to begin with.
Watch the video below, courtesy of Fox News:
—–
Follow Josh Feldman on Twitter: @feldmaniac
Have a tip we should know? tips@mediaite.com
Josh Feldman - Senior Editor