Sean Hannity And Rep. Ellison's Fiery Debate Over Radical Islam And 9/11 Muslim First Responder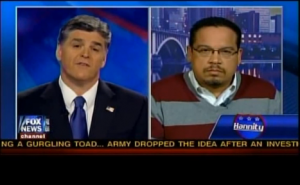 Tonight, Sean Hannity aired his interview with Minnesota Congressman Keith Ellison (if his name sounds familiar, it might be because you recall the buzz Ellison, who happens to be the first Muslim elected to Congress, received after giving a tearful speech about a Muslim first responder who perished on 9/11. He also had the misfortune of having his holy book bashed by Bill Maher.) and… things got loud.
Hannity pointed to an issue with which Ellison, by now, is very familiar: New York Rep. Peter King's statements that radical Islamic factions are recruiting new members in the U.S. Hannity mentioned The Nation of Islam, asking Ellison if the group concerned him at all, and if it warranted an investigation. Ellison responded by saying that a group warrants an investigation if there is probable cause to suggest it has engaged in some kind of illegal activity – not simply because one doesn't like what it is it stands for. Once Ellison mentioned that he's a constitutionalist, the volume jumped from 3 to about 6. And it would only grow louder.
Hannity rather abruptly changed the subject to Mohammad Salman Hamdani (the first responder Ellison had mentioned previously), specifically to claims that Ellison had taken Hamdani's story "out of context." Ellison responded that his sole intent had been to humanize a man whose name had been risked being marred – by some, not everyone – due to negative rumors. Ellison then criticized Hannity's reaction to his testimony, with Hannity responding by accusing the Congressman of having misled the American people in his testimony by leaving out the fact that Hamdani's actions were praised in the Patriot Act. "Why won't you join me in this?" asked Ellison. "I already did," shrugged Hannity. Volume now at… 8.
Volume grew to roughly 9.25 once Hannity tried to get Ellison to agree that "radical Islamists are at war with America."
Have a listen for yourself, courtesy Fox News:
Have a tip we should know? tips@mediaite.com