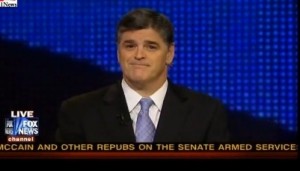 As Mediaite reported yesterday, the eagle eyes of The Daily Show noticed that Sean Hannity substituted news footage from the 9/12 rally for last week's much-lower-attended Super Bowl of Freedom. The effect was that the latter event seemed like a much bigger deal than it was.
Last night, Hannity apologized, claiming that the footage had been used "inadvertently." Here's specifically what Hannity had to say:

"And finally tonight, although it pains me to say this, Jon Stewart? Comedy Central? He was right. Now on his program last night, he mentioned that we had played some incorrect video on this program last week while talking about the Republican healthcare rally on Capitol Hill. He was correct, we screwed up, we aired some video of a rally in September, along with a video from the actual event. It was an inadvertant mistake, but a mistake nonetheless, so Mr. Stewart. you were right, we apologize. But by the way, I wanna thank you, and all your writers, for watching. (Laughter)"
Hannity's claim that they "played some incorrect video," is a bit of an oversimplification of the production process. Since the video they played was part of a pre-edited package, this most certainly wasn't a case where the technical director simply hit a wrong button. The footage for this package was selected by someone, then edited by an Editor.
So — was this an honest mistake? Given the recent debate about the distinctions between Fox News' opinion programming and its news programming, its at least worth another look.


You may recall the name Griff Jenkins from a previous flap involving Fox News: it was his crew that was "reprimanded" for whipping up a 9/12 crowd for the cameras.
While the White House took some lumps over their treatment of Fox News, incidents like this certainly seem to underscore their overall point. One of the linchpins of Fox News' defense is the idea that there's a wall between their news and opinion programming. Problems with their news programming notwithstanding, this defense isn't exactly air tight.
The "opinion show" defense is only really operative when it comes to opinions. When it comes to news content on opinion shows, they retain some duty to present facts accurately and fairly. For example, MSNBC recently drew criticism for dishonestly editing footage of a gentleman who was carrying a gun at a Town Hall event. And similar criticism of blurry lines between news and opinion at MSNBC exist when day time news anchor David Shuster fills in to guest host Keith Olbermann's Countdown. Even The Daily Show has been called out for blurring the line between facts and opinion (or comedy in this case.)
Fox's news personnel are frequent guests on Fox opinion programs, which lends traditional journalistic credibility to opinion programming of Hannity or Bill O'Reilly. While it makes programming sense to promote shows and personalities across the network — which Fox News does better than any network — it also blurs the line between the two sides of Fox programming for a less informed or critical viewer.
Sean Hannity certainly deserves credit for the quick and earnest apology for the footage miscue, and while he's clearly on the opinion side of FNC, it is legitimate to ask whether this mistake also harms the credibility of Fox News "news desk." This mistake not only gives rise to Fox News fiercest and most vocal critics, which until recently, included the White House, but raises a larger question: shouldn't there be any concern about this expressed by FNC News Desk?
Have a tip we should know? tips@mediaite.com