Sean Hannity Confronts Ann Coulter With Her Anti-Romney Comments From Last Year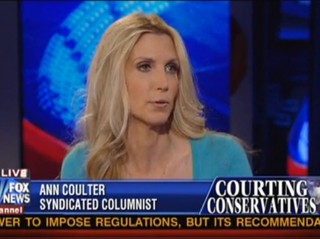 Ann Coulter is making the case for Mitt Romney as the most electable Republican candidate in the current 2012 field (after her calls for New Jersey Gov. Chris Christie to get into the race fell on deaf ears), and tonight on Hannity she had to explain what had changed in a year, since she asserted before an audience at the Conservative Political Action Conference that a Romney nomination would be a sure loss. "I now think Obama has a glass jaw," she told Sean Hannity, explaining that even beyond Romney, she would vote for any Republican over the incumbent.
RELATED: Coulter: Without Chris Christie GOP Forced To Nominate Mitt Romney And 'We'll Lose'
Coulter began her argument by noting that the importance of this election is that the "treats" in Obamacare have yet to be implemented, such that it can be repealed without anyone losing any benefits from the legislation. "As soon as the treats kick in," she asserted, "it will never be repealed." She repeated her belief that Romney (and Rep. Michele Bachmann) were the most conservative candidates left, though didn't believe Rep. Bachmann's experience in the House was enough for a presidential run.
Hannity then played Coulter a clip of herself stating that, should Gov. Christie not run, "the candidate is going to be Mitt Romney and we'll lose" at CPAC 2011 and asked, "what changed?" Coulter argued that her stance at the time was not a total 180º from the one she has now: "I didn't say 'I hate Mitt Romney' and now I love him," and defended herself by saying her prediction was "a lot better than everybody on MSNBC telling us it's going to be Pawlenty." "I now think Obama has a glass jaw," she explained, and while she sometimes was a pessimist, she didn't think President Obama's strengths were as prominent as they were a year ago. She also argued that Romney had "proven ability to win in a state like Massachusetts," while other candidates like former House Speaker Newt Gingrich were "the worst of both worlds"– the sort of talk that elevates "the image of Republicans being cruel, but you never get the policy."
RELATED: Flip Flop²: New Romney Ad Features Endorsement By Same Ann Coulter Who Blasted Him At CPAC
Hannity concluded that he would support Gingrich over President Obama anyway, to which Coulter exclaimed, "I would support Jeffrey Dahmer against Obama!" Given the opportunity to clarify to liberals that she was, of course, kidding, she replied jokingly, "screw them."
The segment via Fox News below:

Have a tip we should know? [email protected]