Sean Hannity Confronts Russell Simmons On Calling Him 'More Gangsta' Than Snoop Dogg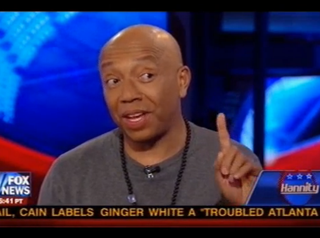 Tonight's Hannity boasted a fairly special interview, and one of those rare occurrences where two people who disagree on most everything about politics can get together and debate passionately without lacking in warmth. The guest? Russell Simmons, rap mogul turned Occupy Wall Street sympathizer who came on the program to argue the merits of the movement to a skeptical Hannity, and wound up trying to defend a comment that Hannity was "more gangsta" than Snoop Dogg.

RELATED: Russell Simmons: Occupy Wall Street Protesters Want Constitutional Amendment
"Do you ever feel bad about being rich?" Sean Hannity began his line of questioning, noting that he was definitely a member of the 1%. Simmons answered definitively that it did not– "I worked hard to get where I am"– but that he also felt good about giving. "I don't feel bad about earning or about a system that allowed me to earn." His problem with the system, he continued, was that corporations were corrupting the system and diluting mobility, and that the protesters were "concerned that Wall Street has control of their future."
While Hannity agreed in part (and got Simmons to agree that President Obama was part of the problem), he asked Simmons whether he was concerned about the sexual assaults at Zuccotti Park and anti-Semitic statements made by members of the movement. Simmons replied that there were many underprivileged people who entered and exited the movement as need be that did not have anything to do with the "nucleus of the movement."
RELATED: Russell Simmons Blasts Media: "You Can't Have Much Faith In Them"
In a radio interview about this summer's Common rapping controversy, during which Hannity was very vocal, Simmons argued that someone like Snoop Dogg was "less racist, less sexist, less homophobic, and less gangsta" than Hannity, about which Hannity had only one question: "more gangsta?!" Simmons noted that he called Hannity after he had made those statements to apologize, and that he did take back the racist and homophobic bits, but, in essence, his neo-conservative foreign policy views were "gangsta" (the "sexist" comment didn't get too much airtime), a claim Hannity dubiously accepted.
The segment via Fox News below:
Have a tip we should know? tips@mediaite.com