Sean Hannity Gives Cornel West And Tavis Smiley A Hard Time Over Their Poverty Initiative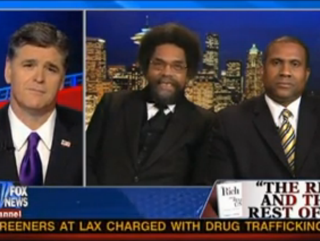 Sean Hannity often has plenty of conservative guests on the program, but tonight he shared the stage with two of the more animated liberal public intellectuals in the country– Professor Cornel West and Tavis Smiley, who wrote a book so antithetical to Hannity's ideals, he began the discussion tonight by calling out its title.

RELATED: Sean Hannity And Cornel West Go Head To Head Over His Herman Cain 'Crack Pipe' Comment
Hannity noted that the three often disagreed. "I do enjoy it when you both criticize Barack Obama, I thank you for that," Hannity admitted to Smiley and West, the latter who replied, "we're even more critical of you!" Hannity admitted he was upset at the title of their book, The Rich and the Rest of Us. Smiley began by way of explanation noting that "the rich more than the poor are responsible for this catastrophe," but the economic struggles the nation have seen have fallen primarily on the shoulders of the poor. Hannity objected. "How about government policies that are responsible?"
West noted that the two are often one and the same. "The government policies tend to reinforce the oligarchy," he argued, while Smiley said "we are calling for an acknowledgment of poor people's humanity." Hannity made West happy by saying, "I'm going to concede a point to you– I don't want any bailouts." West laughed, and suggested a solution that Hannity seemed at ease with: "you've got to make jobs available, Brother Sean!" They agreed that entrepreneurship was the key to kickstarting the economy, though disagreeing– with Smiley jumping in on this point, that President Reagan's economic policies were the appropriate model to be used.
The segment via Fox News below:

Have a tip we should know? tips@mediaite.com