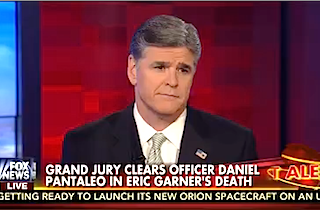 Since the moment the grand jury decision in the Eric Garner chokehold death case was announced Wednesday afternoon, cable news commentators have been in near-consensus that Officer Daniel Pantaleo should have been indicted — if not for murder then definitely for manslaughter. When it was Fox News host Sean Hannity's chance to weigh in last night, he too expressed "anger" over the case, but not because he thought police used excessive force.
"What makes me so angry about this case — why are police officers ever arresting anybody for selling cigarettes in a city where you only get a summons if you're caught smoking pot?" Hannity asked his former law-enforcement guest Wednesday night. He accused the city of creating a "black market" for cigarettes with its large taxes, asking, "How stupid is all of this from the get-go?"
When Mark Furhman defended the police for simply trying to "enforce the laws" that are in place about selling loose cigarettes, Hannity once again said it was "absurd" that someone like Garner had been arrested for that crime when people are only getting a summons for smoking small amounts of marijuana.
Eventually, Hannity turned to the larger issue at hand, which is how the police officer decided to take down and ultimately kill Garner while trying to arrest him. On this point, he appeared to be defending the officer's actions.
"I would not use the term chokehold, as a martial artist student," Hannity said. He added later, "While it may sound like a small detail, I want to know how much the jury heard about chokeholds versus headlocks, because a chokehold is illegal. A headlock is not illegal for the police to use."
What Hannity did not seem to grasp is that whether you call it a "chokehold" or a "headlock," the reality is that Garner repeatedly said "I can't breathe" and subsequently died. At that point, his past arrests for selling loose cigarettes as well as the officer's intended maneuver became irrelevant.
Moments later, Hannity was back to wondering aloud whether Reverend Al Sharpton has been "irresponsible" in his handling of both Ferguson and the Eric Garner case.
Hannity's assessment of the circumstances surrounding Garner's death stood in sharp contrast to his fellow Fox News colleagues, who have by and large stated that there should have been an indictment in this case. Earlier that same evening, Judge Andrew Napolitano said he believed Officer Pantaleo should have been indicted for killing a man who "posed no serious or material threat to the police." And Bill O'Reilly said he was "extremely troubled" by the Garner video and came away with the conclusion that the man "did not deserve what happened to him."
In general, Fox News hosts have viewed the Michael Brown shooting case in Ferguson very differently from the Eric Garner chokehold case in New York. Perhaps it's because there is such clear video evidence of what happened between Garner and the NYPD officer. Or maybe it's because Brown's alleged crime was stealing from a convenience store while Garner was supposedly standing up to the state of New York by selling untaxed cigarettes — something conservatives can easily get behind.
But for Hannity, the cases are more or less the same. While he could disagree with the law that Garner was allegedly breaking, in both Ferguson and Staten Island, he saw cops doing what they needed to do to take down suspects who weren't cooperating. If they happened to die in the process, well, you can't blame for the police for that, right?
Watch video below, via Fox News:
[Photo via screengrab]
— —
>> Follow Matt Wilstein (@TheMattWilstein) on Twitter
Have a tip we should know? tips@mediaite.com