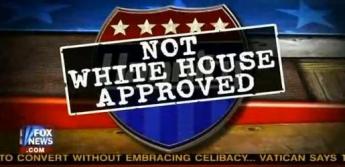 As the White House continues the war with Fox News, Fox News continues to talk about it.
We looked at the news division/official response yesterday, while the most hard-lined GOP opinion host, Sean Hannity, took a new angle last night – a new slogan that relishes in the White House's hate.
"Free-minded patriotic Americans, this program is not White House approved," said an announcer at the very top of the program, before a "Not White House Approved" seal came crashing down on the Hannity logo.
With Hannity on-screen, he continued the new theme:
Welcome to Hannity, home of all the news that's not White House approved. The administration doesn't want to hear what we have to say, they want to silence us, they want us to shut up, they want us to get in line, they don't' want people asking them the tough questions.
During the rest of the show, the Hannity logo bug on the bottom right of the screen included the "Not White House Approved" sign as well. Well, Glenn Beck has his red phone, his colleague had to do something.
His first guest, liberal commentator Bob Beckel, said that while "it's hard for me to understand," why the White House would be picking a fight with Fox News, "I can understand why they don't' come on about three hours of programming, including this one."
"Why?" asked Hannity. Beckel: "Because this is bump-to-bump anti-Obama, who are we kidding?"
It certainly doesn't hurt Hannity to revel in the White House's scorn. Far more than the fiercely independent, 'for the folks' position of Bill O'Reilly and distrustful of all government, storytelling Glenn Beck, Sean Hannity hosts the most cut-and-dry GOP program on the network. And with Beck starting to develop into the #2 role on the network, over Hannity, the longtime Hannity and Colmes co-host has to gain some buzz himself.
Here's the intro to Hannity's show last night:


—–
» Follow Steve Krakauer on Twitter
Have a tip we should know? tips@mediaite.com