Sean Hannity Is Scandalized At Mutual Masturbation And Bestiality In NYC's Sex Ed Class
Hannity Is Scandalized At Mutual Masturbation And Bestiality In NYC's Sex Ed Class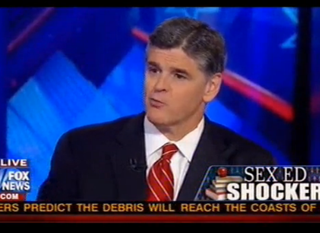 The New York City school district is getting ready to revamp their sexual education programs, and Sean Hannity could not believe his eyes when he read what they would teach. On his program tonight, he warned parents that the compulsory class would teach "oral sex and mutual masturbation," "porn stars, vibrators, and bestiality," and a whole lot more, and examined the merits of this education with his panel.
The program, according to Hannity, would include "children as young as 11," and include so many nuances of the sexual experience ("oral sex and mutual masturbation!" Hannity noted) that the children seem to "get nothing of preventing pregnancy." It would be compulsory, which guest Katrina Szish found to be its fatal flaw. "I think it is ridiculous that the school is mandating classes," she argued, though she also noted that the "children should not be ignorant," but that their education "should come from their families." Hannity wasn't entirely buying it.
"They fall with the reading, writing, and math, but in the upper grades they get into S&M, fetishes, porn stars, vibrators, and bestiality!" Hannity exclaimed. Guest Marybeth Hicks agreed, arguing that "the United States is the most sexualized culture for children in the Western Hemisphere," and while she too believed that parents should be informed so as to teach children, it was the fact that classes were compulsory that outraged her. Hannity, meanwhile, concluded the content of the classes was just too much for a young child.
The segment via Fox News below:

Have a tip we should know? tips@mediaite.com