Sean Hannity, Kirsten Powers, And Tucker Carlson Clash On Obama's Tax Returns… And Biden's Old Underwear?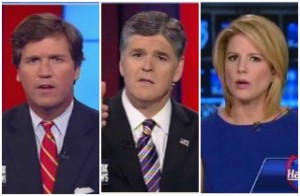 On Hannity Friday night, with an image behind him reading "Unfair Share," Sean Hannity kicked off by noting: "Now for all of President Obama's talk about paying your faire share, and all of crazy Uncle Joe's yammering about paying taxes being your patriotic duty, it's obvious that neither of them are heeding their own advice." Hannity referenced the just-released 2012 tax returns for the First Couple and the Vice-Presidential couple, which revealed the The First Couple made $608,611 and paid about $112,214 in total taxes, equaling an 18.4% tax rate. Vice President Biden and his wife made $385,072, paying $87,851 – which also equals an effective tax rate of 18.4%.
While Hannity noted that the Obamas paid about 24.6% of their income to charity, "cheapskate Joe Biden" paid only 1.87% to charity, a figure which included the Bidens' donation of used goods.
Brought in to debate the issue were Fox News contributors Tucker Carlson and Kirsten Powers. Hannity started off by noting he, as a New Yorker, pays 60 cents of every dollar. Carlson expressed disbelief at the President's tax return, asking: "How could you pay 18% tax on $600,000?! That just doesn't even make any sense – [it shows they're] taking some very aggressive deductions." Tucker also noted the irony, due to the recent budget proposed by Obama that includes a mandatory 30% federal tax on certain earners.
Powers then asked Hannity: "Are you suggesting that Obama is not paying his fair amount of taxes?" to which Hannity countered that, for a guy who lectures about 'fair share,' Obama is only paying 18%. He also questioned why Obama doesn't simply donate the percentage amount to which he seeks to raise taxes. Powers disagreed, noting: "People don't donate taxes 'just because' —I support raising taxes on the rich but I'm not going to pay more in taxes if I don't have to," citing as an example individuals who don't support government healthcare but nonetheless still accept Medicare. Hannity hit back, while conceding Obama that is paying what he is technically obligated to pay: "If he's only paying 18.4%, he ought to at least go up to the percent that he says is our fair share!" Carlson then jumped in: "I'm saying he's not paying everything he's obligated to pay. He has a moral obligation to live up to his own standard. If he's saying the top 1% ought to pay 30% in federal tax, he ought to lead by example and do the same. And he's not, he's clearly taking deductions, aggressively." Powers then noted that if the tax rate was changed, then Obama would pay more, to which Carlson responded: "Why wait?"
Hannity then showed a montage of Obama's repeated use of the term "fair share" throughout the years, as well as a clip of Biden, whom Hannity referred to as a "cheapskate weasel," making similar remarks. Hannity asked Powers why Biden can't donate more than the 1.8% he donated to charity, in light of Biden's professed views, and, referencing Biden's used-goods donations, added: "And donating his old clothes??? Nobody wants that!" (prompting a laugh from the show's crew).
Hannity specifically noted that he gives Obama credit for the charity donation, calling it "very generous," but insisted Biden is a cheapskate, asking Carlson: "Do you want his old clothes?" to which Carlson remarked: "I want the [Obama's] accountant! I can't get over the 18%!"
The conversation then veered into Bill Clinton's used goods donations, with Hannity asking "You think any American really wants Bill Clinton's old boxers?" Carlson 'corrected' him, noting "they were tightey whiteys, they were briefs, possibly thongs, but they were not boxers," with a gracious Powers shaking her head and protesting: "TMI, TMI [too much information]."
With the jovial discussion wrapping up, Hannity closed by noting that "cheapskate Biden" needs to step up to the plate, since, as this administration claims, it's one's "patriotic duty."
Click below for a clip of the lively (and very funny) debate:
Follow AJ Delgado on Twitter >>> @missADelgado
Have a tip we should know? tips@mediaite.com