Sean Hannity, Michelle Malkin Face Off With Juan Williams Over Obama's 'Lies'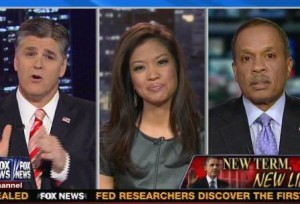 Sean Hannity brought on both Michelle Malkin and Juan Williams tonight to debate whether President Obama was lying when he pledged to reduce health care costs. Hannity rattled off a list of "lies" from Obama's first term, which included a pre-election pledge not to take a dime from lobbyists and swearing to uphold the rule of law, and how new numbers on health care appear to show Obama broke his promise on health care costs.
RELATED: Michelle Malkin To Hannity: Obama Using Children As Props Was 'Beltway Theatrical Staging'
Hannity confronted Williams on the unfulfilled promises on health care. Williams disputed that it was a lie, saying that the health care act will be implemented in stages. Malkin agreed with Hannity that George W. Bush would not get away with doing what Obama has been doing, telling Williams that he is obfuscating too much to recognize there is a "lying liar" in the Oval Office.
Malkin claimed that many unions are now trying to get out of the health care legislation after years of fighting for it. She also said that young people are slowly but surely noticing that they are making less money due to payroll tax hikes because they exist outside of the "Beltway bubble." Hannity asked Williams how it is not a broken promise that the cheapest health care plan is more expensive than Obama promised it would. Williams responded mockingly by shouting, "The sky is falling!"
Malkin interrupted Williams for a "reality check," telling him that he doesn't see the consequences of health care in the real world, including how many doctors are "shutting down their practices" because the cost is too detrimental to them. Williams told Malkin to "calm down," and cited Medicare Part D as helping to create the problem with health care costs, though Malkin made it clear she strongly opposed that measure.
Watch the video below, courtesy of Fox News:
—–
Follow Josh Feldman on Twitter: @feldmaniac
Have a tip we should know? tips@mediaite.com
Josh Feldman - Senior Editor