Sean Hannity Offers To Moderate Peace Talks Between Greta Van Susteren And Tucker Carlson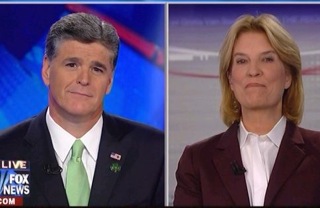 You can tell a segment hit a host's nerve when even the mention of it leads to a testy exchange. During a show preview on Hannity tonight, host Sean Hannity was brave enough to casually mention last night's Mike Tyson-prompted brawl to Greta Van Susteren, who seemed to still not be entirely over her tiff with Tucker Carlson. Thankfully, Hannity offered his services to her as "peacemaker," as "you didn't resolve it last night" and that the two are "communicating a bit" didn't quite sound like burying the hatchet.
"That was a big fight with Tucker," Hannity gingerly noted, to which Van Susteren replied that the two are "communicating a bit." Sensing the tension, Hannity, who has had Carlson host his show on occasion, offered the two a venue: "if you guys want to come on this week, I'll be the peacemaker." Van Susteren didn't quite answer, instead arguing that "it's not a matter of making peace– we have a very different idea on what is appropriate to describe a woman."
Hannity cut her off to once again offer to broker a deal between the two, but Van Susteren just insisted that "it went off the rails," and, rather cryptically, that there's "always sort of a drama behind the drama." As much as the thought of Hannity refereeing a Round 2 between Van Susteren and Carlson is greatly intriguing, now Van Susteren has teased even more drama behind the scenes, which makes Mike Tyson, somehow, this week's cable news drama gift that keeps on giving.
The clip via Fox News below:

Have a tip we should know? tips@mediaite.com