Hannity On Netroots Kerfuffle: 'I Don't Hear Any Calls For Civility When They're Attacking Breitbart'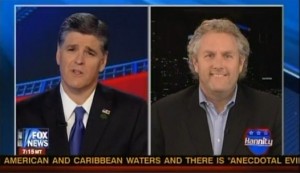 Andrew Breitbart paid a visit to Sean Hannity's show Monday evening to discuss what happened during the recent Netroots Nation convention in Minneapolis. You'll recall that, last Friday afternoon, we showed you footage of Breitbart being harassed, questioned and eventually chased out of a public area of the Hilton hotel where the Liberal convention was being held.
Apparently, some of the kerfuffle (I love this word dearly) sprouted from a racist comment allegedly made by someone working for Breitbart. Breitbart called this a "mythological event" and shared that he'd been followed for two days by a New York Times reporter with whom he'd been discussing how the Left is able to accuse him of "anything in the world" through sites like Salon, Daily Kos and The Huffington Post. The NYT reporter, he says, even came to his defense when he was approached by convention-goers who accused him of things in which he had played no part.
Breitbart also shot down rumors that he'd been attempting to crash the event without having paid an entry fee, echoing statements he'd made to Mediaite about remaining solely in a public area of the hotel apart from where the convention was being held.
For Hannity, the incident brought to mind charges lobbed against Fox News after the Arizona shooting, when the network came under fire was criticized for using provocative rhetoric and acting in a way that was not "civil." Where, Hannity asked, is the call for civility among those of the Left?
Watch the segment for yourselves, via Fox News:
Have a tip we should know? [email protected]