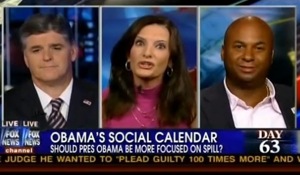 Last night Sean Hannity picked up on a growing narrative inside GOP circles – that President Obama's golf outings are a clear example of an aloof and disconnected president during a time of the BP oil disaster. But the following segment only demonstrates how railing on Obama with trite and predictable cliches about being "disconnected" is only a fruitless exercise in trying to score cheap political points.
In the past few days, Republicans have started using President Obama's golf excursions as a metaphor for being, as Hannity claims, "out of touch" with the plight of the American people. During yesterday's press conference, White House Deputy Press Secretary Bill Burton defended the presidential golf outings, claiming that "the President ought to have a little time to clear his mind." Last night Hannity had on as guests to his show Democratic strategist Michael Brown and Kate Obenshain from Young America's Foundation who both appear in the following segment (in which Obenshain and Hannity gang up on Brown.)
The problem isn't in the remarkably predictable nature of the anti-Obama rhetoric. The segment comes up short because the basic premise of this critique is that President Obama has spent an inordinate amount of time ignoring the tasks at hand by taking on the normal Presidential duties that come with the office. Photo ops with the US Soccer team and the Duke basketball team are not a real problem with this administration (as Hannity implies.) There are real issues on which one can criticize this administration (namely specific policies in which one disagrees), but the notion that this White House has taken any more days off — or done any more press events — than those administrations that came before it is a shallow critique at best, disingenuous at worst.
GOP leadership should proceed with caution if it wants to make a round of golf the litmus test for the President or any other elected official. Golf is a sport of a privileged socioeconomic status, and Republicans railing against the President hitting the links simply doesn't pass the sniff test.
Have a tip we should know? tips@mediaite.com