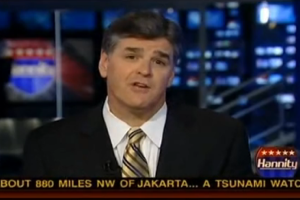 At this point, Sean Hannity's incendiary rhetoric should be no surprise to anyone who has tuned into Fox News in the past decade. But sometimes it even catches Hannity himself by surprise. Two years in, Hannity felt ready to declare Barack Obama the "worst president ever" for his commitment to nuclear disarmament, only to sputter out a series of introspective questions mercifully interrupted by Newt Gingrich.
"Our enemies must be rejoicing," Hannity boldly declared as he discussed the details of Obama's new nuclear disarmament policies that would stop the building of nuclear weapons and prohibit their use against non-nuclear powers. Apparently, the only thing stopping the rest of the world from raping and pillaging on our shores is the fact that we once used nukes on another country. Anyway, this whole "the Cold War was 20 years ago" mentality is incredibly troublesome for Hannity, who notes that Obama is "dangerously obsessed with… disarmament" before taking the opportunity to make one of his most obvious opinions official: "now I'm making the case that [Obama] is the worst president– the record now shows, and this is icing on the cake."
The words were barely out of his mouth before he began to express regret in the form of descent into existential crisis: "Do I overstate it? Am I extreme?… Am I close? Am I right?" Gingrich let's him go on for a few until he attempts to correct the statement:"if you were to say he is potentially the most dangerous because he so completely misunderstands reality," maybe that'll work.
Video below:
Have a tip we should know? tips@mediaite.com