Sean Hannity: Reporters Only Turning On Obama For AP Story Because It Affects Their Profession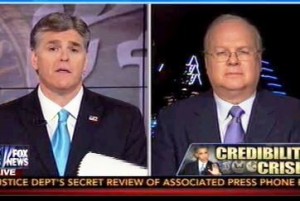 If you've been surprised at how quickly the mainstream media jumped onto the story that the Department of Justice obtained two months of phone records for reporters and editors at the Associated Press, Sean Hannity has a theory for you. Unlike with past Obama administration scandals, including the continuing investigation into Benghazi, Hannity argued that the media is beginning to turn on the White House and getting "fed up with their lies" because the AP story actually impacts their own profession.
RELATED: Fox's Kelly And Hume Applaud Media For 'Showing Up' On Benghazi, IRS, AP: 'Expecting To See Pigs Fly'
Hannity called White House press secretary Jay Carney an "embarrassment" for his weak attempts to explain away these latest scandals, with both him and Rove piling on Carney for lying about the difference between the drafts of the Benghazi talking points While Hannity did credit the media for paying significant attention to the AP story, he threw just the tiniest splash of cold water into the mix.
"The lapdog media that have never done anything but suck up to this administration actually showed a little bit of life today, probably only because it might have impacted their profession."
Hannity showed a montage of reporters grilling Carney and declared, "Even their biggest fans are getting fed up with their lies." Rove hesitated to lump in the AP story in as a scandal alongside Benghazi and the IRS targeting, saying that the government ought to be looking into leaks that could pose threats to national security.
Watch the video below, courtesy of Fox News:
—–
Follow Josh Feldman on Twitter: @feldmaniac
Have a tip we should know? tips@mediaite.com
Josh Feldman - Senior Editor