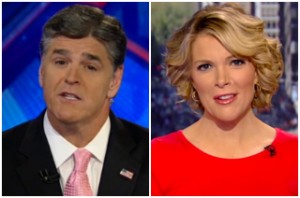 "Hannity says: 'He's leaving it out there to figure it out.'" That's the inscrutable quote Sean Hannity predicted would be picked up in the press after he coyly dismissed the rumors that Megyn Kelly's ascension to his 9pm time slot could mean anything bad for his career. Without giving anything about his own future away, Hannity said he's "very happy" with the result.
"By the way has there been any news today on the Drudge Report?" Hannity asked his radio show co-hosts today. "Anything I missed?" He said, "I am actually enjoying people that really don't know a whole lot, just going nuts. So I'm going to leave it there, just for fun. And these comments will be picked up now. Hannity says: 'He's leaving it out there to figure it out.' Let's just say in the end I'm very happy. That's all I can say at this point."
"Because everybody thinks they know everything and they don't," Hannity continued. "It's pretty funny. I love people speculating. And of course the Hannity haters come out in full force: 'I hate Hannity. I can't stand him. He's dumb. He's stupid. He's a right wing nut job.' I love that, too. And if I wasn't hated, I wouldn't be doing my job now would I?"
So, for all of us blindly speculating out here, all we can really deduce is that Hannity is not particularly angry about his time slot change. As fellow speculator Andrew Kirell wrote earlier, the most likely scenario is that Hannity will move to 10pm, where he will face off with MSNBC's Lawrence O'Donnell.
Listen to audio below, via The Sean Hannity Show:
—
>> Follow Matt Wilstein (@TheMattWilstein) on Twitter
Have a tip we should know? tips@mediaite.com