Sean Hannity Takes Pat Buchanan To Task Over Controversial Remarks About 'The End Of White America'
Hannity Takes Buchanan To Task Over Controversial Remarks...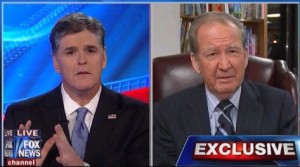 For every liberal action there is an equal and opposite conservative reaction, and Sean Hannity gave his reaction tonight to MSNBC finally parting ways with controversial commentator Pat Buchanan after ten long years. Buchanan spoke to Hannity in an exclusive interview, and while the first part of it focused on both men attacking MSNBC, Hannity did grill Buchanan over his racially charged comments about the dangers of America no longer being a majority-white country.
RELATED: Chris Matthews Passionately Defends Ousted MSNBC Analyst Pat Buchanan
Hannity took the opportunity right off the bat to go back into Buchanan's past and his involvement in Crossfire, one of the first-ever cable debate shows. Buchanan admitted he was drawn to the format because he wanted to be in the business of presenting ideas and engaging in "real debate." He accused liberal groups like Media Matters of being in the business of shutting down dissenting opinions instead of promoting healthy debate. As the saying goes, "I may disagree with what you say, but I will defend to the death your right to say it."
Both Buchanan and Hannity agreed that "elements in our society" like Media Matters are unfairly targeting conservatives in the media by pressuring network brass to drop someone who presents controversial viewpoints, as Buchanan does. The ex-MSNBCer was so disgusted with Media Matters, he encouraged Tucker Carlson to keep his fight against the group going. Hannity credited Buchanan with being intellectually consistent over the past decade, and wondered what changed. Buchanan couldn't help but wonder what it was liberals are afraid of. Certainly not him, just one old man whose ambitions to serve in public office ended in the 90s, but Buchanan suggested they're afraid of "the people" who might listen to another point of view and change their minds.
But that's where the joviality between the two ended. Hannity acknowledged that while Buchanan's views haven't changed, those views do include some eyebrow-raising statements about race. Buchanan defended the chapter in his book called "The End of White America" to a surprisingly confrontational Hannity.
"The year 2042, people had talked about where the European majority in the country, the white majority, would be a minority. Now, there was a cover story in The Atlantic titled 'The End of White America,' and this fella who was a professor celebrated it. Bill Clinton went out to Portland State and said by 2050, there's going to be no racial majority in the country, and everybody applauded.

"So I took up that issue and I said, 'Wait a minute. This… it's not known for sure that this is going to be beneficial because I don't know a country in this day and age where there's no ethnic majority that is not in danger of coming apart. And my question is, why can everybody else celebrate this and say it's wonderful, and I can't even write about it without being blacklisted?"
RELATED: Color Of Change Urges MSNBC To Drop Pat Buchanan For His Use Of 'White Supremacist Ideology'
Hannity interjected, asking Buchanan how anyone could interpret his comment to mean anything other than an attack on minorities. He tried to give Buchanan a way out by offering up the traditional "Judeo-Christian values" line for him to grab ahold of, but Buchanan stuck to his guns and argued that there is inherent political danger when there is no majority white identity for American society to cling to.
Watch the video below, courtesy of Fox News:
Have a tip we should know? tips@mediaite.com
Josh Feldman - Senior Editor