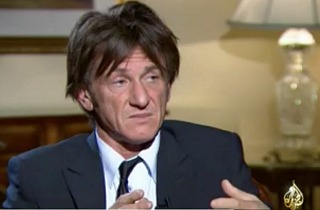 In an interview with Al Jazeera, actor Sean Penn defended Venezuelan President Nicolás Maduro, who's government has led a bloody crackdown amid protests over shortages and political repression. Penn called Maduro's predecessor Hugo Chavez a "great friend" and said that Venezuela's president faces unrest over economic hardship much like President Barack Obama faced when he took office.

"President Maduro inherited a lot of the growing pains that were left, and the problems that came of a country largely forced into paranoia, largely forced into certain relationships that maybe are distasteful," Penn said.
He added that Maduro is similar to Chavez in that he is "in love with his people and his country." When he was asked if he thought the Venezuelan people were in love with Maduro, Penn said it was important to "be careful."
"Are they demonstrating in Venezuela over oppression, or are they demonstrating because they're on economic hard times? It's the latter," Penn insisted. "We're all on economic hard times."
RELATED: Venezuelan Beauty Queen Among 6 Killed in Anti-Government Protests
Penn asserted that human rights watchdogs have not accused Venezuela of offenses, as they have the United State's regional partner Colombia.
"The frustrations are real, but, you know, they are frustrations of an identity up against — we see it on an economic level with President Obama and the United States," the actor continued. "How quickly we forget the devastated economy he inherited. The devastated credibility of his country he inherited."
Penn added that Venezuela cannot be viewed outside the prism of the "incredibly biased" American press coverage of that country's unrest.
As of the end of March, at least 31 had died and 461 were injured in the ongoing unrest in Venezuela. Another 1,854 were detained, according to figures released by Venezuela's interior ministry.
Watch the clip below via Al Jazeera:
[Image via screengrab]
— —
>> Follow Noah Rothman (@NoahCRothman) on Twitter
Have a tip we should know? tips@mediaite.com