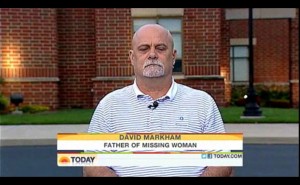 The search for Katelyn Markham, the young woman who has been missing without a trace from her Ohio home for two weeks now, intensified today with the 22-year-old's father, David Markham, making a special plea on NBC's Today Show. "I can't believe it's happening, it's a parent's worse nightmare, and I just can't wait for it to be over," he says, wishing that there was some clue, "even a sign of struggle at the apartment" to work off of. "We're really starting with nothing."
Markham was last seen by her boyfriend of six years and fiance, John Carter, on August 13th, just days before her 22nd birthday and a month before she was scheduled to graduate from the Art Institute of Cincinnati. Carter says that things seemed normal when he left her apartment late that night, and that they had been discussing a move to Colorado but "she did not feel like she was being forced into anything." She sent him one last text message at 12:52 AM that night, and he only began to worry the next morning when she wasn't responding to his text messages.
Katelyn's father said this morning that Carter's story sounds like "typical Katelyn" and like "everything was normal, just the everyday life of Katelyn." He also notes that "she was never gone for 24 hours without letting somebody know, let alone two weeks."
Katelyn's house was left mostly untouched — her her car parked, her dog Murphy locked in the bedroom, and everything else, keys and purse included, intact. All that was missing was Kateyln and her cell phone, which was turned off around the same time she sent that last text message to Carter on August 13. Fairfield, Ohio police chief Mike Dickey says in Today's report that, in his 40 plus years of service, he has never seen a case with so little evidence and that, "It's as if she vanished."
Katelyn is being described in the media and by her family as a courageous and responsible. They report that she was focused on and eager about her future — one that included a college degree and a marriage to her boyfriend of six years — and she hadn't been showing any signs of depression. But to be so young and with so much on your plate can be scary, and to become the center of a nation-wide search, deemed a "blushing bride-to-be," perhaps scarier yet. Her father, however, seems open to her being overwhelmed, saying he is praying for her to "come in saying, I thought you got the message that I was taking a break."
Police say they still have no evidence of foul play, but of course cannot rule anything out in a case like this. Anonymous donors are now offering $5,000 in reward for information regarding her disappearance. A Facebook group called "Missing! Bring Katelyn Markham Home" has been created to keep searches up to date, and today the national search group EquuSearch has joined in their efforts.
Watch David Markham on the Today Show below:

Have a tip we should know? tips@mediaite.com