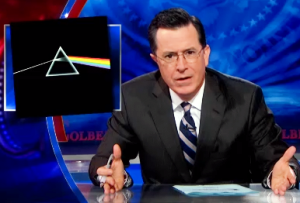 Earlier this week, late night comedian Stephen Colbert did a segment on Seattle's pro-pot laws, targeting the Seattle Police Department for not only not cracking down on marijuana use, but actually passing out bags of Doritos at Hempfest with information about the state pot laws on them. Well, the Seattle PD showed it has a great sense of humor by responding to Colbert with a thoroughly tongue-in-cheek open letter.
The open letter takes aim at Colbert for saying they've surrendered in the war on drugs, especially when it comes to the children.
We simply cannot remember a time we were more incensed by such a blatant mischaracterization of our department. We continue to investigate the sale of marijuana to minors, and we certainly do not encourage the use of silly branding like "Bubba Kush" and "Alien Dog." If it were up to us, pot brands would have names like "Remember to Call Your Mother" and "You Don't Want to Grow Up to Be a Drummer, Do You?"
They also took some serious umbrage at Colbert mocking them for saying people should listen to Dark Side of the Moon at a reasonable level.
In fact, we were simply drawing Hempfest attendees' attention to the fact that they need not sustain any sort of auditory injury while embarking on Pink Floyd's seminal 43-minute psychedelic voyage through human existence.
Is it possible for law enforcement to blow your mind? Because I think they just did.
They also boasted that the new pro-pot laws have been a boon to the local restaurant industry, since "you have to get on a three-month-long waiting list just to order a pizza."
In case you're wondering why the Seattle Police are acting like a cool college buddy, Forbes did an interview a few months ago with Jonah Spangenthal-Lee, the man behind the Seattle PD's fun new social media/public outreach efforts. He even talks about why they went with Doritos at Hempfest and not sacrilegious snacks like Bugels.
You can read the full open letter here.
Watch the original Colbert segment below, via Comedy Central:
[photo via screengrab]
— —
Follow Josh Feldman on Twitter: @feldmaniac
Have a tip we should know? tips@mediaite.com
Josh Feldman - Senior Editor