Sebelius Frustrates GOP Rep. by Insisting Obamacare Enrollment Hub 'Has Worked Beautifully'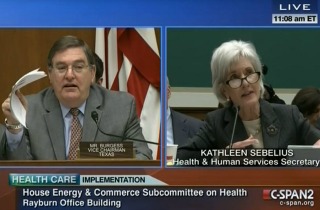 A tense exchange erupted during a congressional hearing into the problems associated the Affordable Care Act's online insurance exchanges. Rep. Michael Burgess (R-TX) probed Health and Human Services Sec. Kathleen Sebelius over whether the ACA's payment and enrollment systems are functioning, given reports which indicate they are not. He let out a heavy sigh when Sebelius insisted that "The [Federally-Facilitated Marketplace] hub has worked beautifully from start to finish."

Burgess quizzed Sebelius about a private accountability report she commissioned six months prior to the website's launch which indicated that the ACA exchanges website was going to experience a number of problems when it went live. He insisted that Sebelius was not being honest when she testified last month that the website's issues were a surprise.
RELATED:Dem Rep. Palone: It's Not 'Freedom' to Be Able to Keep 'Lousy' Insurance Plans
"May I submit they were actually accurate in that assignment," Burgess said of the report's warnings.
"The hub has worked beautifully from start to finish," Sebelius replied.
She and Burgess scuffled over whether ACA exchanges are able to facilitate a payment between a private insurance enrollee and the insurer. Sebelius insisted that most payments are not yet due.
"I was unable to make my payment on HealthCare.Gov on the federal exchange in the state of Texas," Burgess replied. "And I was told you can't make that payment."
"You don't pay the federal government," Sebelius replied. She insisted that insurance companies are responsible to communicate to their customers whether or not they have successfully enrolled and whether they have fully paid for the services they purchased. When pressed, Sebelius conceded that she has not attempted to submit a payment into the ACA system as of this hearing.
Watch the clip below via C-SPAN 2:
[Photo via screen grab ]
— —
> >Follow Noah Rothman (@NoahCRothman) on Twitter
Have a tip we should know? tips@mediaite.com